Press release
UK welcomes DRC political deal
Minister for Africa encourages swift implementation of the deal leading to democratic elections this year.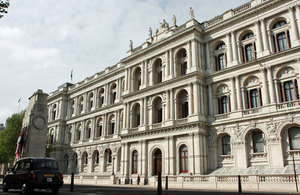 Following the signing of the deal Tobias Ellwood, Minister for Africa, said:
The signing of a political deal between the Government of the DRC and opposition parties on 31 December was a very welcome development. I applaud the perseverance of the Catholic Bishops Conference of the Congo (CENCO) in supporting the constructive and inclusive engagement between the main political parties that led to the agreement.

I hope this deal paves the way for a peaceful transition of power, resulting in democratic elections before the end of 2017. It is imperative that it is implemented as soon as possible and I encourage the government and the opposition to continue their cooperation, to preserve the progress they have already made.

The UK will continue to offer our support in helping to bring about open, fair and free elections in 2017 that will ensure a democratic and peaceful handover of power.
Further information
Published 6 January 2017