UK to provide £16 million in humanitarian aid for Ukraine
The FCDO is to provide £16 million to address widespread needs in Ukraine, including to support people affected by the destruction of the Nova Kakhovka dam.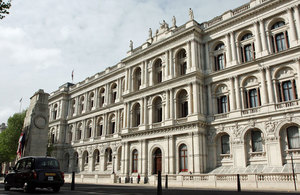 in recognition of growing needs FCDO to provide £16 million to enable aid partners to help civilians, including 32,000 people directly affected by flooding, as well as at the frontlines and displaced communities
UK funding will assist aid organisations with their response and includes £10 million to the Red Cross Movement, £5 million to the United Nations Office for the Coordination of Humanitarian Affairs (OCHA) and £1 million to the International Organisation for Migration (IOM)
to bolster rescue efforts and manage impact of ongoing flooding the FCDO is sending boats, community water filters, water pumps and waders to Ukraine
The UK has today (10 June) set out an additional £16 million in humanitarian support as Ukraine deals with the aftermath of flooding caused by the destruction of Nova Kakhova dam, which has affected 42,000 people in the Kherson area, and continuing Russian attacks.
This builds on our existing humanitarian support of £220 million which is allowing partners, such as the Ukraine Red Cross, to help evacuate civilians affected by the flooding.
Alongside this the UK-led Partnership Fund for a Resilient Ukraine has already delivered 2 specialist rescue boats, search and rescue equipment, and trauma medicine to Kherson to assist the ongoing rescue operations by the State Emergency Services.
The additional £16 million is given in recognition of mounting needs across Ukraine, including in the areas affected by the destruction of the Nova Kakhovka dam.
Funding will support aid organisations in the area who are currently assisting people affected by the flooding with rapid response equipment, shelter and essential supplies, as well as in areas affected by fighting and communities who have been displaced.
Beyond the immediate rescue efforts, this funding will help to respond to the ongoing impacts from flooding, including waterborne infectious diseases, loss of livelihoods and risks from landmines.
The funding will consist of £10 million of support to the Red Cross Movement, £5 million to OCHA and £1 million to IOM.
The UK is also providing a package of rescue boats, community water filters, water pumps and waders to help State Emergency Services of Ukraine responders deal with the ongoing impact of the flooding. Equipment is expected to start arriving in Ukraine by next week.
Today's announcement comes as water levels in Kherson continue to rise, with flooding spreading to other towns along the Dnipro River. The UK has moved quickly to bolster its support to Ukraine as it deals with severe flooding from the dam, which is expected to last for weeks and leave many in need of food, water and basic supplies.
Foreign, Commonwealth and Development Secretary James Cleverly said:
Flooding from the destruction of Kakhovka dam is having an untold impact on over 32,000 people living in Kherson, and thousands more in the surrounding area.

The UK is leading the way in providing support to those desperately in need. Our funding is playing a vital role in helping Ukrainian services and aid organisations evacuate people and get help to those in need.

We will continue to stand by Ukraine in dealing with this terrible incident.
This aid package is part of the UK's total support for Ukraine which so far totals £1.5 billion in economic and humanitarian support, which has paid for the delivery of more than 11 million medical items as well as food supplies, ambulances, shelter kits.
Earlier this week the Foreign Secretary visited Ukraine to highlight the UK's unwavering support for Ukraine and its recovery. During his time there he met President Zelenskyy in Kyiv and discussed how best the UK will continue to support Ukraine against Russia's aggression.
The UK is also set to host the Ukraine Recovery Conference later this month, which will bring together governments and industry leaders to develop a concerted multi-sector plan to help Ukraine to recover from Russia's illegal invasion.
Media enquiries
Contact the FCDO Communication Team via email (monitored 24 hours a day) in the first instance, and we will respond as soon as possible.
Published 10 June 2023