Press release
UK supports Pakistan to grow tax base
International Development Secretary Justine Greening announces new support for tax collection and skills training on a visit to Pakistan.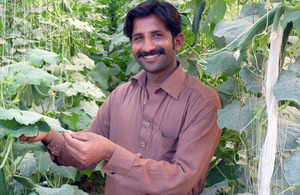 New British support on tax collection and skills training in Pakistan will help the new government rebuild the country's economy, reduce poverty and boost stability, International Development Secretary Justine Greening said today.
During a visit to Pakistan, Ms Greening welcomed the government's commitment to bring tax levels up to 15% of the country's GDP by 2018 and plans to widen the tax net to the wealthy. She called on newly elected leaders to lead by example.
She announced that the UK will support Pakistan's efforts, alongside the World Bank, on achieving its ambitious tax target, with expert assistance through high-level dialogue between the UK's HMRC and Pakistan's Federal Board of Revenue.
She also highlighted UK initiatives with provincial governments across Pakistan, including setting up a revenue collection office in Khyber Pakhtunkhwa and work to ensure taxes are collected and spent transparently in Punjab.
The UK will provide further economic support with a training programme to provide almost 135,000 people in Punjab, nearly half of them women, with practical skills to make them more employable. This will focus on skills that are in high demand, such as mechanics, tailors and cooks. The programme is an expansion of a joint UK/government of Punjab scheme that saw more than half of all unemployed trainees find a job within 6 months.
Speaking from Pakistan, Justine Greening said:
The recent elections are a crucial milestone in Pakistan's history. I have heard encouraging plans from the new government on how it will rebuild the economy, create jobs and reduce poverty.
By paying their taxes and backing reform, business, the wealthiest individuals and elected politicians in Pakistan can show their commitment to a more vibrant future for ordinary Pakistanis.
We know this will be challenging, but without creating the right climate for wealth creation Pakistan will never be able to invest in a more prosperous future. The UK will continue to support Pakistan as it delivers on these reforms, which are key to stability and long term prosperity.
Notes to editors
Without raising more funds, Pakistan will not be able to provide essential public services and invest in a more prosperous and equitable future. HMRC will provide Pakistan's Federal Board of Revenue with expert assistance at senior official level, including advice and sharing experience on approaches to tax collection and enforcement.
This will complement the technical assistance programme that the World Bank will be providing to the Government of Pakistan.
Last week the Government of Pakistan reached an agreement in principle on IMF support for its economic reform plans.
Related news
Published 10 July 2013