Case study
Pakistan: Investing in young people's skills
UK support to the Punjab government is providing skills training to thousands of poor youths in the province to help them get jobs and and work their way to a better future.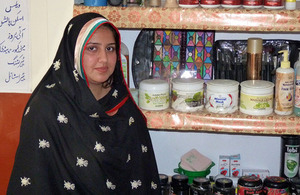 Ayesha Mehreen, 22, lives in Muzaffargarh district in Punjab province, Pakistan. Her father passed away a few years ago and her brother, who works as a driver at a local Non-Governmental Organisation (NGO), is the family's sole breadwinner. Sadly, his earnings barely covered the basic expenses for the family of 5.
Life took a turn for the better when Ayesha received the opportunity to train for free as a beautician. The cost of training can often mean that young people such as Ayesha are not able to develop the skills they need to find employment. However, Ayesha was given the chance to attend a free 3 month course jointly funded by the UK and Punjab government, which was offered through a local NGO – Women Social Organization (WSO). Upon completion of the course Ayesha started her own business, visiting homes within her neighbourhood to provide makeup services.
She is pleased that she can supplement her brother's income and wants to inspire other girls who want to be financially independent.
"I would like to thank the UK government for funding my training. I have recently started my own business as a beautician. The Punjab Skills Development Fund has shown me a ray of hope for the future," says Ayesha.
Training farmers on agricultural methods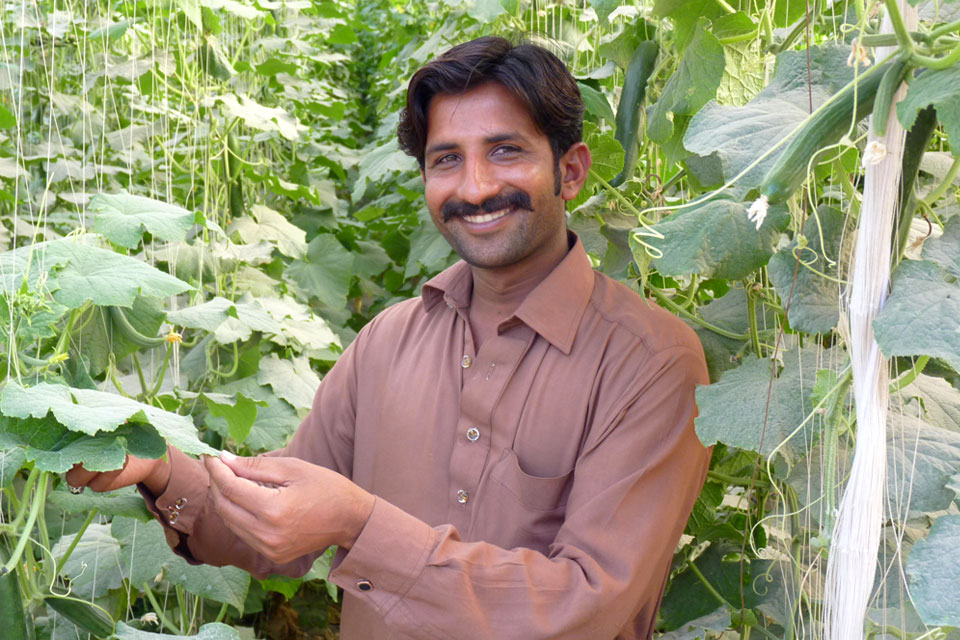 Muhammad Sajid, 25, left school after fifth grade to help his father, who worked as a farmer for a local landlord. He had heard about the tunnel farming of off-season vegetables, which was becoming popular among farmers in Lodhran. Sajid experimented with the technique by leasing some land, but his lack of technical knowledge led his crop to fail and resulted in huge losses.
Things changed for Sajid after he learnt about a tunnel farming course which was also funded by the UK government and the Punjab Skill Development Fund (PSDF), this time through the Public Welfare Organization in Lodhran. Sajid got admission and completed a 3 months free training course. He then leased some land from a local landlord to grow seasonal vegetables and is now successfully cultivating crops and vegetables like cucumbers, tomatoes, green chilies, pumpkins and bitter gourd. He is thankful for the opportunity and believes such courses are invaluable for people like him.
"I want to thank the UK and the PSDF for funding my training for tunnel farming. Gaining confidence from my early returns, I believe my business of off-season vegetables will lead to more stable profits," says Sajid.
Supporting women to set up businesses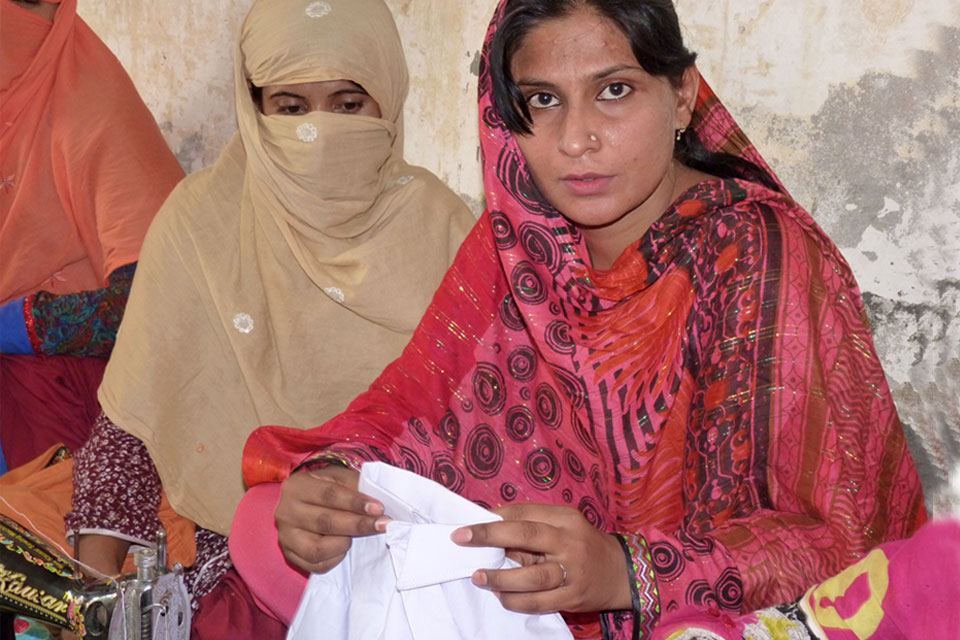 Sughran Tahir is a mother of 3. She had to leave school when she was 13 due to financial problems and married at an early age. Her husband works as a mason and earns Rs. 500 (£3) a day when he is able to find work.
Knowing the importance of an education, Sughran began sending her children to school but soon realized that she could not afford the school fees from her husband's salary. That was when Sughran considered acquiring some new skills so that she could help her husband financially.
She enrolled in a tailoring course jointly funded through the PSDF to polish her dress making skills. Sughran completed the free training in 3 months. Upon completion, she received a Rs. 6,000 stipend which she used to buy a sewing machine and set up a tailoring facility with some girls from her village as apprentices. Now she receives orders for wedding outfits and has been able to earn a good living. She is hoping to open up a boutique in the area and has started saving for this venture.
"This training can help people like us to escape poverty and become a more productive part of society, and also to be able to invest in our children's education," says Sughran.
Investing in jobs
The UK government – in partnership with the government of Punjab – is providing job training to 135,000 of the poorest men and women in the province by 2015, through the Punjab Skills Development Fund (PSDF). This will enable them to earn more money through practical job skills for in-demand jobs such as mechanics, beauticians, drivers, health workers and cooks to lift themselves out of poverty. Some 20,000 people have already received skills training and are earning more money.
Related links
Published 11 July 2013