News story
UK priorities in Yemen
The UK is taking a leading role in coordinating international support for President Hadi to implement reform and tackle instability.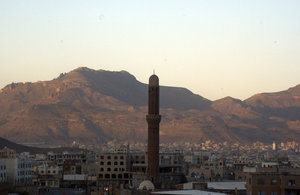 Yemen is currently undergoing a period of political transition following the signature in November 2011 of a Gulf Cooperation Council-brokered Initiative and UN transition plan by former President Saleh and the leaders of the main political parties in Yemen. It brought to an end months of political turmoil and committed Yemen to a two-year period of political transition. Under the Initiative, former President Saleh resigned from office and was succeeded by Abd Rabbo Mansour Hadi following interim Presidential elections in February 2012.
The process of political transition in Yemen is broadly on track but remains delicate and complex. Since his election President Hadi has demonstrated a commitment to tackling violent extremism and re-establishing security in Yemen. The security forces have successfully retaken territory held by Al Qa'ida in the Arabian Peninsula (AQAP), but AQAP continue to pose a serious threat. Attacks against Yemeni security forces are common and almost 100 Yemeni servicemen were killed in a bomb attack during preparations for the Unification Day Parade on 21 May 2012.
An essential part of transition will be the National Dialogue Conference (NDC) due to begin on 18 March. The conference will pave the way for a new constitution which will be voted on in a constitutional referendum. The final stage of transition will be full Presidential and Parliamentary elections in February 2014.
Despite some positive developments on the political side in Yemen, the humanitarian situation remains critical. Yemen has the highest poverty levels in the Middle East, and faces a range of development challenges, including significant corruption; food and water shortages; high population growth; and almost non-existent social service provision. Ongoing conflict in the north and the south of the country has displaced thousands of civilians and put some areas of the country beyond effective state control. The 2013 UN humanitarian appeal stands at $716m, a 22% increase from $585m in 2012. This prompted the UN Office for the Coordination of Humanitarian Affairs to classify Yemen as "one of the world's major humanitarian crises".
The UK has taken a leading role in coordinating international political support for President Hadi as he works to implement reform and to tackle instability in Yemen. The Friends of Yemen, suspended amidst the political chaos and violence of 2011, was restarted and re-energised with ministerial meetings in Riyadh and New York in 2012. The United Kingdom co-chairs these meetings with the Kingdom of Saudi Arabia and the Republic of Yemen, and the UK will also host the forthcoming meeting in London on 7 March.
The UK uses its membership of the UN Security Council and Human Rights Council to raise the profile of the challenges Yemen faces, to encourage urgent implementation of reform, and to demonstrate international support for President Hadi. In January the UK permanent representative to the UN jointly led the first visit by the UN Security Council to Yemen. Following the visit, the President of the Security Council issued a strong statement which made clear that former President Saleh and his former Vice President al-Beidh should not interfere with the political transition process or they could face further measures under Article 41 of the UN Charter.
At the Donor Conference in Saudi Arabia in September 2012, representatives from Gulf Cooperation Council countries, the World Bank and others pledged $6.4 billion of aid.
The UK's contributions of £196 million from 2012 to 2015 are helping to:
protect 2 million women and children from chronic malnutrition
provide 42,000 people per year with paid work such as farming and labouring
support successful constitutional and electoral reform, leading to and presidential and parliamentary elections in 2014
provide access to finance for 44,700 people (60% women) between 2012 and 2015 to help them work their way out of poverty by setting up or expanding small businesses
provide short-term humanitarian assistance (to 2013), providing 300,000 people with emergency food assistance and essential health services for 170,000 people.
Published 1 February 2013
Last updated 24 March 2013
+ show all updates
Added translation
First published.