Press release
UK makes £3m contribution to Syrian Recovery Fund
William Hague and Justine Greening announce a £3million boost to the Syria Recovery Trust Fund.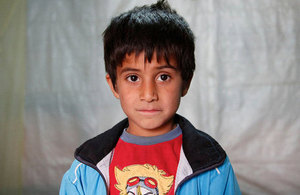 The Foreign Secretary and Secretary of State for Development have announced a £3million boost to the Syria Recovery Trust Fund focusing on improving local communities' access to healthcare, water, energy and food.
The Syria Recovery Trust Fund, a co-ordinated mechanism for donors to finance the National Coalition's efforts to meet needs inside Syria, could play a crucial role in helping to save lives. It will mitigate some of the effects of the horrific civil war, and also allow the National Coalition to demonstrate their commitment to serving and providing for the Syrian population.
Foreign Secretary William Hague said:
The UK is committed to supporting the Syrian Opposition. By making a contribution to the Trust Fund, we will be helping them to improve their capacity on local governance and the delivery of basic services in order to meet needs on the ground.

The National Coalition is the sole legitimate representative of the Syrian people with a democratic and pluralist vision for Syria. Since their formation we have been at the forefront in providing them with practical and political support.

We are disappointed that the recent round of Geneva II talks ended without an agreed date for recommencing. Lakhdar Brahimi has been clear that responsibility for this lies with the regime who refused his proposed agenda for the next round of talks.

We believe a political settlement is the only way to end the violence and we will assist in any way we can in order to achieve this.
Secretary of State for Development Justine Greening said:
The humanitarian crisis in Syria has reached catastrophic proportions. Tens of thousands of people have been killed and millions more forced to flee their homes.

Those remaining inside Syria are struggling to get by because existing infrastructure has been so severely damaged as a result of the ongoing conflict.

This new funding for the Syria Recovery Trust Fund will be used to repair damaged or destroyed infrastructure and restore vital services including water and sanitation, electricity, health and education.
Further information
Find out how the UK is responding to the humanitarian crisis in Syria and neighbouring countries
Follow the Foreign Secretary on twitter @WilliamJHague
Follow the Foreign Office on twitter @foreignoffice
Follow the Foreign Office on facebook and Google+
Published 31 March 2014