Press release
UK knowledge investment continues to grow
New figures published today (31 March 2014) show that UK business is building success through knowledge and creative assets.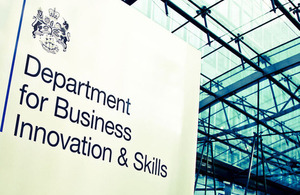 New figures published today (31 March 2014) show that UK business is building success through 'knowledge' and 'creative assets'. Investment in 'intangible' assets has increased by more than 5% to £137.5 billion from 2009 to 2011 and nearly half of this investment was protected by formal Intellectual Property Rights. Of this, 46% was protected by copyright, 21% by unregistered design rights and 21% by trade marks.
Data shows investment in intellectual property and 'intangible' assets is growing and continues to outstrip investment in tangible assets, such as buildings and machinery, which fell slightly from £93 billion to £89.8 billion. The figures signal the growing value UK businesses attach to knowledge, innovation and creativity.
A second report published today (31 march 2014) outlined the government's response to improving the understanding of IP assets and their value to help use them more effectively when accessing the finance needed for business growth.
Minister for Intellectual Property, Lord Younger, said:
These investment figures show the strength and value of the UK's creative and knowledge-based industries. Continued growth in investment in 'intangible assets', along with the fact that nearly half are protected by formal intellectual property rights, demonstrates that some UK firms do understand their real value.

However despite these positive figures, as the economy grows a real challenge remains for firms to understand their intellectual property and how it can help them to access funding to invest in the first place. The government has set out an action plan, to help address the missed opportunities and help businesses, and the lending community, to realise and maximise intellectual property assets.
The government's response, to the Intellectual Property Office commissioned 'Banking on IP?' report sets out a range of recommendations for government and industry to take forward. These recommendations are designed to break down the barriers to access for finance for businesses who want to protect their IP.
The recommendations include:
building understanding of IP in businesses and financial services sector through improving bankers' training, and using existing tools and new case studies, to increase awareness
supporting a productive dialogue between sources of finance and IP-rich firms by developing an IP Finance toolkit
creating a system to increase lenders' confidence in assessing the value and risks of IP assets through developing appropriate insurance policies, assessing existing IP trading platforms and reducing risk through better IP focused credit scoring
The estimates of investment in IP rights were produced by Jonathan Haskel, and Peter Goodridge of Imperial College, London and Gavin Wallis of the Bank of England. They build on work commissioned by NESTA to estimate intangible investment by UK business as part of the 'Innovation Index'.
Notes to editors:
The "Estimating UK investment in intangible assets and Intellectual Property Rights" and 'Banking on IP: an active response' reports are available on research pages of the Intellectual Property Office (IPO) website. The IPO is within the Department for Business, Innovation, and Skills (BIS) and is responsible for the national framework of Intellectual Property rights, comprising patents, designs, trade marks and copyright.

The government wants to make the UK the best place to start and grow a business. In the autumn it will launch a public campaign to celebrate GREAT British business success stories. The government wants to inspire other small businesses and point them towards the support that can help them grow. It will also launch a new strategy for how the whole of government will back them. This will set out a range of measures to continue helping budding entrepreneurs and existing businesses succeed.

The government's economic policy objective is to achieve 'strong, sustainable and balanced growth that is more evenly shared across the country and between industries'. It set 4 ambitions in the 'Plan for Growth', published at Budget 2011:
to create the most competitive tax system in the G20
to make the UK the best place in Europe to start, finance and grow a business
to encourage investment and exports as a route to a more balanced economy
to create a more educated workforce that is the most flexible in Europe
Work is underway across government to achieve these ambitions, including progress on more than 250 measures as part of the Growth Review. Developing an Industrial Strategy gives new impetus to this work by providing businesses, investors and the public with more clarity about the long-term direction in which the government wants the economy to travel.
Published 31 March 2014