News story
UK-India economic and trade relations to take centre stage on two-day visit
Philip Hammond will visit Delhi and Mumbai as part of the 9th UK-India Economic and Financial Dialogue (EFD), hosted by Indian Finance Minister Arun Jaitley.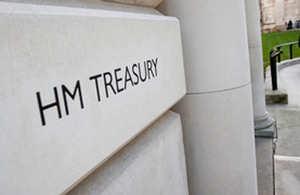 The Chancellor will be joined by a senior business delegation including leaders from UK FinTech and financial services firms, as well as FinTech envoy Eileen Burbidge, the Commercial Secretary Baroness Neville-Rolfe and International Trade Minister Mark Garnier. Less than a week after the triggering of Article 50, the talks will also focus on the future of UK-India trade relations.
The Chancellor will participate in high-level talks aimed at deepening the UK's economic and trading relationship with India and showcasing Britain as one of the best places in the world to do business.
Building on the Prime Minister's ambitious vision for the India-UK Strategic Partnership last November, the 9th EFD will involve a series of events over a two-day period, including discussions on trade, financial services, and infrastructure. Bank of England Governor Mark Carney and the CEO of the Financial Conduct Authority, Andrew Bailey, will also take part in the dialogue with Mr Jaitley.
The Dialogue itself will take place in Delhi will also focus on how the UK and India can forge a stronger strategic partnership together.
In Mumbai, the Chancellor will meet Indian FinTech start-ups at Barclays RISE, as well as the Chairman of Mahindra group, and will give a speech at the UK-India FinTech conference.
Chancellor of the Exchequer Philip Hammond said:
As we prepare to leave the European Union, it is more important than ever that we strengthen our relationship with India, one of the world's leading economies and one of our oldest friends and allies.

Our trade and investment relationship is already strong – the UK has been the largest G20 investor in India during the last 10 years and India is a leading global investor in the UK, creating over 7,000 new jobs last year alone, but there is much more we can do. I am looking forward to positive and productive talks with Finance Minister Arun Jaitley and his team.
Secretary of State for Business, Energy and Industrial Strategy, Greg Clark said:
As we deliver on the shared commitment to provide sustainable, secure and affordable energy in both our countries, the India-UK Energy for Growth Dialogue will enable us to explore the immense shared economic opportunities lying ahead.

India invests more in the UK than in the rest of the EU combined, while the UK is the biggest G20 investor in India. I look forward to discussing how the UK government's Industrial Strategy will increase the prospects for shared trade, investment and energy innovation between our two great countries.
Commercial Secretary to the Treasury, Baroness Neville-Rolfe said:
The UK is a great, global trading nation and we are determined to strengthen our relationship with old friends like India as part of our plan for Britain.

Nowhere is this more true than in financial services, where the UK's world leading financial sector is helping to support growth all over India.

I want this to continue long into the future and I am therefore delighted that we are deepening our collaboration in FinTech to advance cooperation in this fast-growing sector.
HM Treasury's special envoy for FinTech, Eileen Burbidge said:
It's brilliant to see so many FinTech-related initiatives announced as part of this Economic Financial Dialogue. Since the UK is the world's leading FinTech hub, we look forward to supporting the growing FinTech ecosystem of India – and exchanging ideas, talent and investment between our two countries.

As the UK regulator deepens its cooperation with India this is an important signal to UK FinTech companies, SMEs and larger financial services institutions alike, and I find it encouraging that this collaboration will now be made even easier.
Parliamentary Under Secretary of State, Department for International Trade, Mark Garnier said:
The UK and India enjoy a strong trading relationship, we are the largest G20 investor in India and in 2015-16 India was the UK's second biggest job creator. With the world's largest young population and an ambitious reform agenda, there are huge opportunities for UK businesses as we have the skills, expertise and technology to meet India's demands. As we prepare to leave the EU, we will continue to ensure our businesses seize the global demand for British goods and services and I look forward to discussing how we can forge even stronger links with this key trading partner.
In the same week Greg Clark, Secretary of State for Business, Energy and Industrial Strategy will participate in the first-ever India-UK Energy for Growth Dialogue and meet with his Ministerial Counterparts to deepen energy cooperation between the two countries. Through the Dialogue, India and the UK will agree priority areas for bilateral collaboration and a business delegation of over 40 companies will explore commercial opportunities.
Since 2000 the UK has invested over £19 billion in India, more than the US or any other European country and Indian companies play a major part in the success of the UK economy. Many of these operate in fast growths sectors such as technology & telecoms (32%), pharmaceuticals (19%) and financial services (10%).
Ministers will showcase how Britain is open for business by making a series of announcements on including:
Encouraging more City of London investment into India's rapidly growing energy and renewables market, through a UK-India sub-fund of India's National Investment and Infrastructure Fund. With an a core investment of £120 million from each government, this will aim to raise £500 million for vital Indian infrastructure projects
Increased collaboration between the UK and Indian Fintech sectors – taking forward a regulatory cooperation agreement that will make it easier to share information about innovations, emerging trends and regulatory issues and make it easier to invest in FinTech in both India and the UK
Chevening Financial Services Scholarships – eight top Indian financial services leaders of the future will attend an eight week intensive course in financial services in London in spring. Standard Chartered is sponsoring the scholarships, which is being supported through the Government's Chevening scheme
A number of commercial deals are expected to be signed during the visit, creating and securing jobs at home and demonstrating market confidence in the strength of the British economy.
These include:
Mumbai based Indsur Group, will invest £12 million in UK-based Western Thermal Limited, creating 100 jobs in the UK
Barclays will create a UK-India Fintech Exchange Programme, where three Fintech start-ups from both the UK and India will travel out to each other's countries and work closely with mentors and finance professionals. Barclays Rise Accelerator Mumbai, the successful scheme to support Fintech start-ups, will now expand and take in firms continuously from around the world, including the UK
Lloyd's of London will welcome the opening of its Indian reinsurance branch in Mumbai and the successful registration of MS Amlin as the first Lloyd's syndicate to operate there, which will provide speciality reinsurance protection onshore in India for the first time
World First, a UK-based foreign exchange company, will announce that they are opening their first office in Bangalore in autumn 2017, with plans to handle half a billion pounds in international transfers by 2020.
HDFC, a leading Indian financial conglomerate, will issue a £400 million masala bond as part of a new Medium Term Note programme listed on the London Stock Exchange
Arecor, a leading UK formulation technology research company, will sign a £45 million licencing agreement with Cadila Pharmaceuticals to research and develop insulin glargine for diabetes.
AstraZeneca, one of the UK's leading biopharmaceutical companies invested in a Global Technology Centre (GTC) in Chennai two years ago with more than 2,000 employees. The company will announce a further expansion of this GTC this month with the opening of a new facility that will focus on IT and non-IT services
WealthObjects a UK company that provides a B2B Robo Advisory, Financial Planning and Engagement ready-made platform or modular APIs for Consumer Banks, Fund Managers, Investment firms, and Insurance firms. This helps firms launch a customised and automated digital wealth proposition faster and at a fraction of the cost. WealthObjects will shortly be launching these in India to add to their growing list of clients
With its fourth global FinTech program, Startupbootcamp will continue its objective of fostering collaboration between corporates and startups in financial innovation by announcing its first cohort of start-ups from its Mumbai programme
List of delegates
Mark Carney, Governor, BoE
Andrew Bailey, CEO, FCA
Chris Woolard, Executive Director, FCA
Gerry Grimstome, Standard Life
John Nelson, Lloyd's of London
Chris Davies, CEO HSBC International
Nikhil Rathi, CEO, LSE
Ashu Khullar, Co-head Corporate Banking EMEA, Cit Group
John Laws, Managing Director, Head of Regulatory and Government Relations, Asia Pacific, Barclays
Eileen Burbidge, Partner, Passion Capital and HM Treasury FinTech Envoy
Christoph Rieche, Co-founder Iwoca Ltd
Sajeev Viswanathan, Earthport
Rohit Bammi, Earthport
Kristo Kaarman, Co-founder, TransferWise
Husayn Kassai, Onfido
Nikhil Saigal, Onfido
Kush Patel, Tallysticks
Raj Pofale, SCA
Alistair Tebbit, RELX
Jeff Parker, Managing Director for Asia-Pacific, World First
Emma Davis, WorldFirst
Rahul Tripathy, Fundaura
Uday Bhaskar, WealthObjects
Julie Lake, FinTech50
Published 4 April 2017