News story
UK extends women's rights protections to Bermuda and St Helena
International discrimination protections have been increased for over 35,000 women and girls.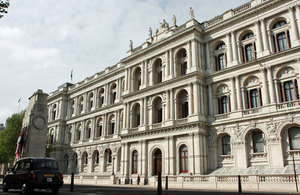 The UK has extended women's rights protections in Bermuda and the territorial group of St Helena, Tristan da Cunha and Ascension Island, the Minister for Women and Equalities Justine Greening announced today.
The UN Convention on the Elimination of All Forms of Discrimination Against Women (CEDAW) has now been extended to Bermuda and the St Helena grouping, demonstrating the UK's commitment to championing women's rights around the world.
CEDAW is an international human rights treaty on equality between women and men, and defines discrimination against women. It forms a bill of rights for women worldwide, and sets out a comprehensive framework for tackling gender equality. The statutory instrument was deposited today in New York during the UN Commission on the Status of Women.
Minister for Women and Equalities Justine Greening said:
I am proud that the UK is leading the way on gender equality but we also have a responsibility to champion women's rights around the world.

We can't just wait for equality to happen, we need to keep pushing for it. By committing to protecting women and girls from discrimination, Bermuda and St Helena join the growing list of countries working to create a world where women and girls can achieve anything.
Under CEDAW, states are obligated to take action to protect women's rights, including, but not limited to:
appropriate measures to eliminate stereotyping, prejudices and discriminatory cultural practices
measures to stop all forms of trafficking and the exploitation of prostitution of women
ensuring that women have equal rights with men to vote, hold public office and participate in civil society
ensuring that women have the same legal right to enter contracts, own property and choose their place of residence
ensuring that women have equal rights with men in relation to marriage and as parents
ensuring that women have equal rights with men in education
The Honourable Nandi Outerbridge, JP MP, Minister of Social Development and Sports, with responsibility for Human Rights in Bermuda, said:
Extension of CEDAW represents another major step towards the advancement of women's equality and human rights in Bermuda. It has been a long journey, and we will now focus on new initiatives to strengthen and enhance the gains that have already been made.
Governor of St Helena, Lisa Phillips, said:
I am incredibly pleased that the UK is extending CEDAW to St Helena, Ascension Island and Tristan da Cunha. In so doing, we are making history. This will be the first extension to one of the UK's smallest, remote and vulnerable inhabited territories. By adopting CEDAW, we have achieved a considerable milestone for these three islands in the South Atlantic. We demonstrate that we are now internationally recognised as Territories committed to equal rights and opportunities for women and girls.

In many ways St Helena, Ascension Island and Tristan da Cunha have a good story to tell on gender equality with encouraging progress to date. But there is more to do, especially to protect those less affluent and more vulnerable. I am proud of the women in these Territories and cannot bear to see discrimination….of any kind. The extension of CEDAW is an important contribution to ensuring women's rights endure and are protected into the future.
Minister for the Overseas Territories and Foreign Office Minister for Human Rights Baroness Anelay said:
I am delighted by the recent decision of the Foreign Secretary to extend the UK's ratification of CEDAW to Bermuda and the territory grouping of St Helena, Tristan da Cunha and Ascension Island. I wish to extend my congratulations to the governments of these territories for their hard work and commitment to the promotion of women's rights within their jurisdictions.

In just over one year, the UK government has increased the territorial application of this important international instrument from 3 to 7 Overseas Territories, and it is our ambition that the remaining Territories will soon be in a position to join them.
The UK government most recently extended CEDAW to Anguilla and the Cayman Islands in March 2016, and today's announcement marks another milestone in the UK's ambitions to extend the convention to all British Overseas Territories. CEDAW has been adopted by 186 countries, who have an obligation to respect, protect and fulfil women's human rights. You can read the full text of the convention.
Published 16 March 2017