World location news
St Helena, Ascension and Tristan da Cunha and the UK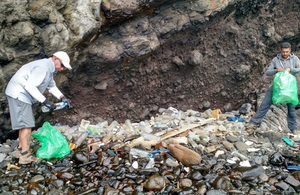 The UK Government has re-opened the Darwin Plus scheme and given a grant for a plastic reduction project on St Helena to help support UK Overseas...
Our mission
St Helena, Ascension and Tristan da Cunha are British Overseas Territories. The UK government does not have any permanent representation in St Helena, Ascension and Tristan da Cunha.
The local authorities deal with all requests for consular assistance.
The Ascension Island Police Detachment handles all consular protection services. There is no facility for issuing replacement UK passports or UK entry visas.
If you need consular assistance in Tristan da Cunha, contact the local police (telephone 2010). If you need a replacement or emergency passport, contact the Administrator's office at the Government offices in the Settlement.
For further information on development see DFID Overseas Territories.
Documents