News story
UK deploys RAF Sentinel to help search for missing schoolgirls
The UK has sent an RAF Sentinel to assist the Nigerian government in the search for more than 200 teenage girls.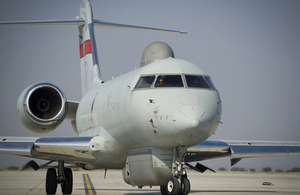 An RAF Sentinel reconnaissance aircraft has deployed to support the international search for the kidnapped schoolgirls, abducted almost a month ago.
The 5 (Army Cooperation) Squadron aircraft, which has a suite of intelligence-gathering and surveillance equipment, left RAF Waddington in Lincolnshire this morning.
The state-of-the-art jet will operate from Accra in Ghana and will join US aircraft in attempting to locate the girls who were seized from a school dormitory in the north east of the country last month.
Defence Secretary Philip Hammond said:
The kidnap of these girls is a reprehensible act which has drawn international condemnation. I am pleased that Britain's armed forces have been able to support the international search operation and provide the specialist skills which could help the Nigerians locate their missing children.
The squadron was put on alert to deploy after the Prime Minister's announcement to Parliament that he had offered to help the Nigerians to tackle the kidnap crisis and the long term threat posed by the Boko Haram terrorist group.
The Sentinel R1 aircraft has a crew of 5 and is capable of flying for significant periods of time at high altitude. It is fitted with dual-mode radar which can locate moving targets and offer radar imagery (effectively pictures formed by radar returns); especially useful for monitoring activity on the ground.
Officer Commanding 5 (Army Cooperation) Squadron, Wing Commander Dave Kane, said:
The Sentinel is a highly adaptable and capable surveillance aircraft that continues to prove its worth by providing genuine operational effectiveness time and time again.

Like other members of the public we have watched events in Nigeria unfold with a feeling of horror and we are determined to do whatever we can to help find these children and return them to their parents.
The Foreign Secretary William Hague attended a regional summit in Paris on 17 May which agreed enhanced co-ordination between Nigeria and neighbouring countries in the fight against Boko Haram.
This follows the UK's offer of further assistance in the search operation, including an advisory team to embed in the Nigerian army HQ and a specialist team to provide analytical assistance to the Nigerian authorities.
The Foreign and Commonwealth Office also recently announced that the UK will double its investment in conflict resolution programmes in the country.
Published 18 May 2014