Press release
UK demands tougher action in UNSC on Syria
UK stepping up efforts to ensure Syrian people receive aid they desperately need.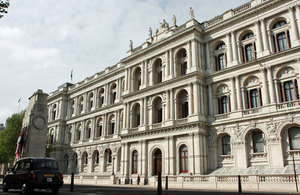 Speaking as the UN makes its monthly report on progress of the UN Security Council Resolution 2139 on humanitarian access in Syria, Foreign Secretary William Hague and Development Secretary Justine Greening issued the following statement:
It has been 3 months since the unanimous adoption of UNSCR 2139 to address the desperate humanitarian situation in Syria. However as the latest UN report states, the Assad regime has intensified its use of siege and starvation tactics against its own people and continues to deny humanitarian access to 3.5 million Syrians. The international community cannot allow this situation to continue.

The UN Secretary General has now called for further action in the UN Security Council. That is why the UK and our allies are demanding a tougher UN Security Council resolution and in parallel intensifying efforts to deliver humanitarian aid to people who are in desperate need, including across borders and conflict lines. A significant element of UK aid inside Syria is now delivered by NGOs who are providing aid directly from neighbouring countries across Syria's borders, helping to reach a million more people.

Against this backdrop, the UK is stepping up efforts with our partners, the United Nations and international NGOs to ensure the Syrian people receive the aid they most desperately need.
Further information
Follow the Foreign Secretary on twitter @WilliamJHague
Follow the International Development Secretary on Twitter: @JustineGreening
Follow the Foreign Office on twitter @foreignoffice
Follow the Foreign Office on facebook and Google+
Published 29 May 2014