Press release
UK-China IP Symposium to help boost innovation and growth
The UK government today (7 May 2014) announced the second UK-China Intellectual Property Symposium will take place on 1 September 2014.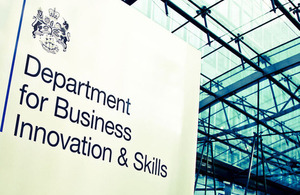 The UK government today (7 May 2014) announced the second UK-China Intellectual Property Symposium will take place on 1 September 2014, the latest in a series of high level international events to promote and protect intellectual property across borders to foster growth.
Hosted by the UK Intellectual Property Office (IPO) and the Chinese State Intellectual Property Office (SIPO) the Symposium will be held in Beijing. Prime Minister David Cameron and Chinese Premier Li Keqiang agreed to hold this summit during their meeting in December 2013.
The UK-China IP Symposium will provide an opportunity for businesses from both countries to engage directly with government officials to make it easier for them to navigate the Chinese and UK intellectual property systems. The aims are to:
improve the knowledge of UK and Chinese businesses of our respective intellectual property systems
create a public dialogue on the emerging challenges and changing landscape of intellectual property
Viscount Younger of Leckie, UK Intellectual Property Minister, said:
An effective IP system is increasingly important for helping to promote and to deliver innovation and growth. The symposium is an important opportunity for UK and Chinese businesses to take a real leap forward in how they work with the IP systems in both countries. This will help open up further the business relationship with China, a key trading partner in the UK's programme for economic growth.
The all-day event will be opened by Lord Younger, the UK IP Minister and Commissioner Shen Changyu of the Chinese State Intellectual Property Office. The panel sessions will bring together IP officials and senior judiciary members from both countries. A number of other UK-China IP events will be held throughout the week across China.
The symposium is 1 of many events this year (2014) that will bring together an international community of senior IP leaders and experts. In June 2014, the UK along with OHIM and the European Commission, will host the first international IP Enforcement Summit at Westminster Central Hall. The summit will provide a chance to:
strengthen and build new partnerships to improve international enforcement activities
identify and discuss new and emerging IP challenges in the digital world
help create a more effective IP enforcement system that will support and boost economic growth
Lord Younger added:
Intellectual property issues have moved from the edges of our economic policy to centre stage. With 10% of global trade estimated to be in counterfeits, tackling IP crime and establishing effective enforcement is more important than ever and is a key element of a successful IP system.

The Enforcement Summit is a rare opportunity for collaboration and innovation with a truly international delegate list from all sides of the debate to optimise the benefits of an effective enforcement regime.
Notes for editors
Media enquiries should be directed to BIS press office (020 7215 5080). Interested UK stakeholders and businesses are welcome to attend the symposium and other events taking place in China during the first week of September 2014. For more information on the activities or on UK-China engagement on intellectual property please contact tom.duke2@fco.gov.uk.

Full details of the IP Enforcement Summit programme can be seen at 'The International IP Summit London 2014'.
Published 7 May 2014