News story
UK boosts tech and digital exports at D5 summit
Government launches a new TechLink programme between Britain and Estonia at the D5 Summit in Estonia as GOV.UK reaches 2 billion visits.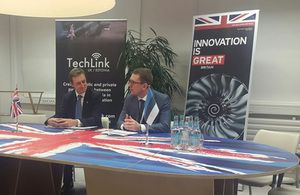 The UK's position as a world-leading exporter of digital expertise has been enhanced through several ambitious new trade initiatives announced at the D5 Summit in Estonia.
UK-Estonia TechLink programme
UK and Estonian ministers have launched a new TechLink programme covering fields that include financial technology, cyber security, digital government, and biotech. It will bring entrepreneurs together from the 2 world-leading digital countries to find innovative solutions to common challenges.
The new programme will build on the already strong working relationships in the government, business and education sectors of both countries. It will give businesses from both countries the opportunity to learn from each other's thriving digital markets and entrepreneurial cultures.
The programme builds on the successful UK-Israel Tech Hub which partners British companies with Israeli innovators, contributing to economic growth in both countries. Launched in 2011, the Hub was the first initiative of this kind at an embassy. It creates partnerships which help Israeli innovation go global, and give British companies a global competitive edge.
UK-New Zealand collaboration
The UK and New Zealand governments also announced greater collaboration between their booming technology sectors at the D5 Summit. The UK government-funded Tech City UK is now trialling making its successful Digital Business Academy to people in New Zealand.
The UK government-backed Academy works in partnership with leading educational institutions, businesses and organisations to give people business skills to succeed in a digital world. These include learning how to start and finance a digital business, how to develop digital products, and how to develop digital marketing campaigns. The Academy had only been available to those in the UK, but people in New Zealand can now access the online courses and lessons.
GOV.UK reaches 2 billion visits
The announcement was made just as the award-winning GOV.UK website has now reached the milestone of 2 billion visits, 3 years after it launched.
GOV.UK is the UK's first ever single domain for government. It offers one place for people to find information about government services and policies in a clear, consistent and transparent format. The website replaced over 330 separate department and agency websites and at least 749 former government domains. It saves taxpayers over £60 million a year and has won the Design of the Year Award in 2013.
UK Minister for the Cabinet Office & Paymaster General Matt Hancock said:
We set up the D5 for the leading digital governments to share best practice, and the new TechLink programme does just that. Across the D5 network I look forward to seeing what further innovations we develop together.

Britain's membership of the D5 is a key part of our role as a world leader in GovTech, as we look to use digital to transform the delivery of public services, reshaping the relationship between the citizen and the state.
Lord Bridges of Headley, who is leading the UK's delegation at the D5 Summit, said:
The UK has a world leading pool of digital talent and a booming digital economy. It's therefore only right that we should be exporting our innovations overseas and encouraging innovators abroad to come to our shores.

I'm here at the D5 Summit this week to encourage even more collaboration between the UK and the world's other leading digital governments and it's really exciting to see the great work we're already doing together and the opportunities that exist for future collaboration. The expansion of Tech City's Digital Business Academy is a prime example of this and a great model for the future.
Gerard Grech, Chief Executive Officer of Tech City UK said:
The Digital Business Academy is just a year old and with already 20,000 UK registered enrolled users demonstrates the huge appetite for digital entrepreneurship.

The Academy is a perfect example of Britain's thriving digital economy. It's a new emerging model of aligning motivated learners with the latest in tech start-up education. Our aim is to accelerate the ambitions of digital businesses and entrepreneurs all over the UK.

We are therefore delighted to be trialling the Digital Business Academy platform with the New Zealand government who see great benefits in tapping into ground breaking frameworks for teaching the latest in digital skills and education.
Published 20 November 2015