This week on the Foreign Office Global Conversations blog
Japan, Afghanistan and the Horn of Africa were amongst the topics discussed by Foreign Office bloggers this week.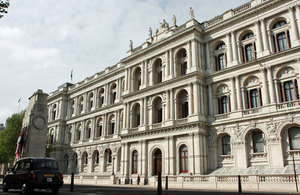 Foreign Secretary William Hague published a video blog explaining 'Why the Horn of Africa matters to the UK':
"There is a lot of economic opportunity if countries are able to develop their infrastructure, if they're able to develop more open political systems and independent judiciaries, the institutions of a free society and free economy. And those are things that Britain must work with those African nations to bring about."
The latest Harry Potter film was the inspiration for a blog post from Nigel Sheinwald, British ambassador to the United States:
"The Harry Potter phenomenon shows the bubbling cauldron that is the British film industry. Of the top 200 films at the worldwide box office from 2001 to 2007, half featured British actors, 30 were based on stories and characters from UK writers, and 20 were directed by UK directors. UK films are noted for their quality as well: British films have pulled 17 Oscars out of the hat in the last three years."
David Wild, Director of Consular Services in Beijing took a historical perspective in his latest blog post. He examined the origins of the Foreign Office Consular Service and the influence Ernest Bevin (Foreign Secretary 1945-50) had on its development.
Foreign Office Minister Jeremy Browne got 'a sobering taste of unsettling life in tsunami areas' wrote Tom Burn, Head of the Media and Communications team at the British Embassy Tokyo.
Afghanistan was the topic of Sophia Willitts -King who works on Foreign and Security Policy at the British Embassy, Washington. Writing about Afghanistan she said:
"If we are to make transition a success, the real challenge is not about the headline figures for foreign troops in Afghanistan, but it is about how we support the Afghans as they shoulder an increasing burden"
Published 15 July 2011