Press release
Syrian children face third winter of misery, warns Greening
UK allocates funding to help hundreds of thousands of Syrians, especially children, cope with the onset of winter.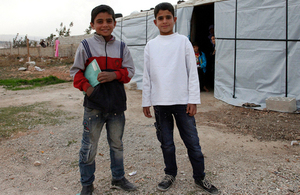 Millions of Syrian children face their worst winter yet as worsening weather and crowded refugee camps create the ideal conditions for the spread of life-threatening diseases such as pneumonia, International Development Secretary Justine Greening warned today.
The UK will provide winter tents, warm clothing and heaters as part of an allocation of nearly £60 million to help hundreds of thousands of Syrians, especially children, cope with the onset of winter.
More than 8 million people have been driven out of their homes as a result of the fighting and are now either displaced inside Syria or refugees in neighbouring countries. Some have no protection from the elements, as temperatures drop and the threat of heavy rain and snow increases.
British support will help the most vulnerable people both inside Syria and across the region cope with the third winter since the conflict began and will include:
warm clothing and thermal blankets
winter tents and shelter material for people who have been driven out of their homes by the fighting
heaters, fuel and insulation kits for displaced families living in collective shelters and abandoned or damaged buildings
medical care including ante-natal support and nutritional supplements for mothers and children
help for thousands of Syrian children who are vulnerable or at risk of missing out on an education because of the conflict, helping to prevent a lost generation
Justine Greening said:
"A third winter of misery faces Syrian children and their families. Each winter is worse than the last, with more refugees and more pressure on shelter, food and medical help.
"Unless the world steps up, these children will not just be facing bullets and bombs, but killer diseases such as pneumonia. These are the children who will have to rebuild their country. We cannot allow them to become a lost generation."
The support from the UK announced today includes:
£19.6 million to agencies working inside Syria including UNHCR, UNICEF and IOM. This includes winter tents for 2,000 families, shelter material for at least 153,000 people, winter clothing for 3,500 families, access to clean water for 900,000 people and nutritional supplements for 100,000 mothers and children, as well as neo-natal care for 5,000 babies

£27.75 million to help refugees and host communities across the region, including support for Oxfam, IRC, Save the Children and UNRWA. This includes:

food rations for more than 2,000 people, primary health care for nearly 3,000 children and ante-natal care to 460 women as well as access to water for 75,000 people in Lebanon
winter fuel to all registered refugees in Iraq as well as heaters, mattresses and blankets to 25,000 people
monthly cash grants to 60,000 refugees in Egypt

£11.15 million to help prevent a lost generation of children from becoming the forgotten victims of the Syrian crisis. It includes getting 5,000 children back into school inside Syria, vocational training and counselling in refugee camps in Jordan, safe houses in Lebanon for women and girls who have been abused or are at risk of abuse and child-friendly spaces and training of child protection staff for 1,500 vulnerable children in Iraq
Notes to Editors
The winter of 2012 saw some of the worst weather Jordan has experienced in 20 years. Yet many refugees continue to arrive with few or no belongings, having discarded them to carry their children to safety. In the mountainous region of northern Iraq, refugees face temperatures that regularly fall below freezing. In Turkey's border regions, snow can lie on the ground for up to four months.

The UK has committed £500 million to help those affected by the conflict. This is the UK's largest ever response to a humanitarian crisis. It will provide support including food, medical care, shelter and relief items for over a million people including those affected by the fighting in Syria and to refugees in Lebanon, Jordan, Turkey and Iraq.

Justine Greening announced the UK's £30 million initiative to prevent a lost generation of Syrian children resulting from the conflict on 23 September, ahead of the UN General Assembly in New York.
For full details of the UK's humanitarian response to the Syria crisis, please visit: Syria Crisis: Latest updates on UK aid.
General media queries
Follow the DFID Media office on Twitter - @DFID_Press
Published 11 December 2013