Press release
Syria elections only designed to sustain Assad's dictatorship
FCO Minister says Syrian presidential elections, conducted against backdrop of regime attacks and in a climate of fear, will have no credibility.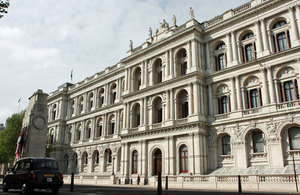 Commenting on the announcement today by Syria's parliament that elections for Syria's president will be held on 3 June 2014, Foreign Office Minister Mark Simmonds said:
Assad's plans for elections can only be designed to sustain his dictatorship. They will be conducted against the backdrop of non-stop regime attacks on civilians, hundreds of thousands living under regime siege in horrendous conditions, and in a climate of fear where thousands of non-violent opponents to Assad have been detained or have disappeared. Millions of Syrians who have been displaced from their homes, or who live as refugees outside Syria, will be prevented from voting. Syria's new electoral law rules out any genuine opposition to Assad.

Elections conducted on this basis fall far short of any international standard, and their outcome will have no value or credibility.

The UK strongly endorses the democratic and pluralist vision put forward by the Syrian National Coalition, and we recognise the Geneva II political process as the proper place for the Syrian parties to negotiate political and constitutional transition. The Syrian regime must re-engage with this process, rather than undermine it.
Published 21 April 2014