Statue of Emmeline Pankhurst unveiled in Manchester today
The unveiling marks exactly 100 years since some women first went to the ballot boxes and stood as candidates in a general election in the United Kingdom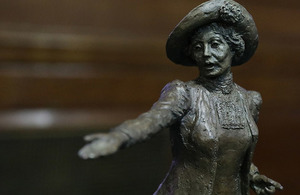 A statue of suffragette Emmeline Pankhurst, which was part-funded by the Government Equalities Office's (GEO) Centenary Fund, will be unveiled in Manchester today (14 December).
Manchester, Emmeline's hometown, is one of seven centenary cities and towns - chosen for their strong suffrage history - which received a total of £1.2 million from the GEO fund.
The statue, created by award-winning sculptor Hazel Reeves, shows Emmeline standing on a chair imploring her audience to support women's suffrage, and is only the second ever statue of a woman in Manchester.
Culminating celebrations of the centenary year across the country, the statue marks the significant contribution and achievements of women in Manchester to the suffrage movement.
Minister for Equalities Baroness Williams said:
"As a councillor in Trafford for 13 years I'm proud of Manchester's role in the history of women's suffrage, and, while it's taken one hundred years, I can't think of a better choice than to honour Emmeline Pankhurst in this way.
"By funding projects like this we are encouraging the next generation of women to get involved in our democracy so that they can have an equal voice in the decisions that affect them.
"What made this campaign so special is the personal dedication of all those involved, and the support for both Emmeline as the public choice, and the brilliant sculptor Hazel Reeves to bring this local hero back to her home streets."
The centenary cities project is helping Manchester to build a legacy from its suffrage celebrations through democratic engagement programmes with the Pankhurst Trust, and the statue of Emmeline.
The statue will be unveiled as part of a whole day of celebrations starting with a procession at the People's History Museum, the Pankhurst Centre and ending at St Peter's Square.
Across the country, women have participated in training in political leadership, media relations and public speaking, supported by the government's £5 million suffrage centenary fund.
Notes to editors:
The statue received £200,000 from the GEO's Centenary Fund
At the council planning meeting where the statue project received planning permission, a young girl chosen from a local school made the case for the statue to the planning board
The £5 million Centenary Fund is supporting projects that raise awareness of this democratic milestone and encourage more women to participate in democracy
It includes £1.2 million funding for local celebrations in Centenary Cities - Bolton, Bristol, Leeds, Leicester, London, Manchester and Nottingham
Published 14 December 2018