Press release
Statement of new regulation: total savings to business exceeds £1 billion
Further progress in the government's drive to eliminate unnecessary red tape is set out in the latest 6 monthly progress update.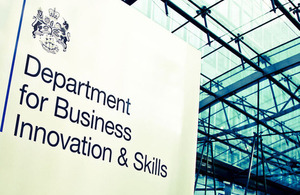 The Statement of New Regulation details all regulation, including EU measures, which is expected to come into force between 1 January and 30 June 2014, as well as all regulation removed - including under the government's One-in, Two-out rule and the Red Tape Challenge.
The Statement confirms that the government has reduced the net annual cost to business of regulation by £1.2 billion and is currently meeting the challenging One-in, Two-out rule for regulation.
The latest measures that will make it easier to do business include:
no longer requiring businesses to fill in waste transfer notes, allowing other forms of evidence to be used instead
making it easier for businesses to comply with employment law. This includes improving the TUPE process, requiring parties in employment tribunals to attempt to settle claims out of court, and allowing businesses greater flexibility in how they respond to questions from potential victims of discrimination
making it easier to choose a company name and simplifying rules on how this is displayed at premises, on websites and in written communications
Business Minister Michael Fallon said:
Alongside low taxes and sound economic management, government action to reduce bureaucratic burdens is helping businesses grow. But small companies still struggle with damaging red tape – much of it from Europe. So we'll continue to demand faster reform in Brussels as well as across Whitehall.
New regulations to be introduced include BIS measures on extending the right to request flexible working to all employees, which will encourage a more engaged and motivated workforce and modernising the consumer credit framework, to bring consumer credit up to date with a changing market.
To increase the pace of de-regulation, the government introduced the One-In, Two-Out rule in January 2013. Departments are now expected to offset any increase in the cost of regulation to business by finding deregulatory measures of at least twice the value.
The government remains on track to deliver an overall reduction in the cost to business of new regulation, over the course of this Parliament.
Notes to Editors
The government is working with partners across Europe to reduce the burden of EU regulation on business. Priorities for making the EU more business-friendly include persuading the Commission to publish an annual statement of the net cost of EU legislation, to help business see what burden of regulation stems from the EU; and making sure that business have an opportunity to influence EU proposals at an earlier stage. The government is backing 30 recommendations for reform drawn up by a taskforce comprising 6 heavy-hitters from the UK business community appointed by the Prime Minister. See the press release Government welcomes business-led plan to cut EU red tape

The government's economic policy objective is to achieve 'strong, sustainable and balanced growth that is more evenly shared across the country and between industries'. It set 4 ambitions in the 'Plan for Growth', published at Budget 2011:
to create the most competitive tax system in the G20
to make the UK the best place in Europe to start, finance and grow a business
to encourage investment and exports as a route to a more balanced economy
to create a more educated workforce that is the most flexible in Europe
Work is underway across government to achieve these ambitions, including progress on more than 250 measures as part of the Growth Review. Developing an Industrial Strategy gives new impetus to this work by providing businesses, investors and the public with more clarity about the long-term direction in which the government wants the economy to travel.
Published 17 December 2013