Press release
Government welcomes business-led plan to cut EU red tape
Business leaders set out 30 proposals to sweep away barriers to growth and save billions of pounds.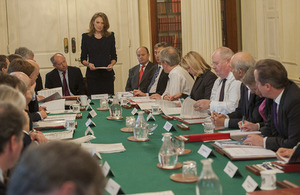 Prime Minister David Cameron has today welcomed radical business-led proposals to cut back EU regulation and to unleash the potential of the EU single market, helping European businesses to thrive in the global race.
Thirty recommendations, drawn up by a taskforce comprising 6 heavy-hitters from the UK business community appointed by the Prime Minister, were presented to Cabinet this morning. They have consulted over 100 business voices across Europe and drawn on over 250 ideas for EU reforms.
The taskforce's report, 'Cut EU red tape', sets out how the EU could promote enterprise and boost growth by sweeping away poorly understood and burdensome rules and preventing similarly pointless legislation in the future.
Welcoming the report, Prime Minister David Cameron said:
It's vital that business can take full advantage of the EU's single market. But all too often EU rules are a handicap for firms, hampering their efforts to succeed in the global race. Business people, particularly owners of small firms, are forced to spend too much time complying with pointless, burdensome and costly regulations and that means less time developing a new product, winning contracts or hiring young recruits. I'm determined to change that and to get the EU working for business, not against it.

That's why I got this Taskforce together, so we could establish from business what they really need. This report makes clear that there are lots of simple and practical ways to cut EU red tape and save businesses across Europe tens of billions of euros.

We must now persuade our European partners and the European Commission to listen to business and to move faster to reform the way Europe regulates. At next week's European Council, I'll be calling for a clear commitment to sweep away unnecessary bureaucratic barriers and to unleash private sector growth - helping to secure the economic recovery for all.
The group focused on barriers to growth in 5 areas of business activity - from starting out, to exporting, to expanding, to developing new products, to overall competitiveness.
Proposals to cut EU red tape
Proposals to cut EU red tape include:
scrapping EU-wide requirements for small businesses in low-risk sectors to keep written health and safety risk assessments. These record-keeping requirements cost businesses time and money. This would benefit at least 220,000 UK small businesses and save businesses across the EU an estimated €2.7 billion
reforming employment law where it prevents firms from creating jobs, and abandoning plans to introduce complex new rules on employee consultation and subcontracting
exempting micro-enterprises from all new employment law proposals where possible
abandoning plans to force small businesses such as one-man gardening firms and carpenters to pay fees to register to collect and transport waste, even when the materials involved are harmless and the quantities small. Abolishing these rules could benefit 460,000 small businesses in the UK and many more across Europe
taking urgent action to simplify costly and complex chemicals regulation, which threatens the competiveness of hundreds of small firms
boosting e-commerce, including by simplifying labelling requirements and improving standards for cross-border parcel delivery
Further proposals for EU measures to support growth include:
rapid agreement of faster approval processes for the pharmaceuticals industry through the new clinical trials regulation
fast-tracking measures to set a maximum cap on the fees that could be applied to card, internet and mobile payments, thus reducing costs for retailers and SMEs and through them for consumers, providing a clear, comprehensive framework to cover card, internet and mobile payments
The report also proposes a new set of 'Compete' principles to ensure that all new EU legislation is rigorously assessed to ensure that it is pro-growth. This would include not accepting any new regulation unless cuts in costs to business of equivalent or greater value can be implemented, as pioneered by the UK government's 'One-in, One-out' and 'One-in, Two-out' rules.
The work of the taskforce will inform the government's work to reform the EU to make it more competitive. It will also help shape longer-term thinking about the impact of EU regulation on growth in the UK.
Business Taskforce - membership
The 6 business leaders were appointed by the Prime Minister in July as part of the government's drive to cut bureaucracy and promote growth. They are:
Marc Bolland, Chief Executive M&S
Ian Cheshire, CEO Kingfisher
Glenn Cooper, Managing Director, ATG Access
Louise Makin, CEO BTG
Dale Murray CBE, Entrepreneur and Angel Investor
Paul Walsh, Diageo
The group was chaired by Business Minister Michael Fallon.
Michael Fallon said:
Unnecessary interference from Brussels still restricts the creation of new jobs, slows growth and makes Europe less competitive globally. By adopting the common-sense measures set out today, the EU can send a clear signal that it is on the side of the hard-working businesses that will drive and sustain economic recovery.
Dale Murray said:
Small businesses are disproportionately impacted by red tape. It's disheartening to see a business tied up trying to comply with pointless rules. All businesses want to focus on the real work of selling more products, making their operations more efficient and employing more people.

Bureaucracy is inversely correlated with innovation. By removing red tape, we can free business up to create more products, more growth and more jobs.
Glenn Cooper said:
I am excited by our report's proposals, particularly the way in which we've drawn on great experience to get to the real issues of solid improvement to EU regulations. Our report sets out in plain language what needs to be done, to ensure EU business can "COMPETE" globally. I am determined to see these changes through, and do all in my power to support this. Business needs to be dynamic and proactive, not stifled with over regulation.
Paul Walsh said:
I urge the EU Commission and European governments to implement these proposals, which will help free up British and European business to grow and compete more strongly in the global economy.
Louise Makin said:
It is vital for our economic growth that European regulations do not hinder business but instead help us achieve success by providing incentives for innovation and support our ability to access new markets. I hope that the European Commission will consider all of these recommendations as a priority and implement them as soon as possible.
Ian Cheshire said:
We need to consolidate the single market if Europe is to compete globally. European rules start with good ideas but can lose their way when they are implemented. This can have unintended and damaging consequences for business and growth. When you have a vast footprint in Europe, and if you're trading across multiple EU borders, smooth implementation and certainty of a level playing field is what is needed.
Marc Bolland said:
With this report we've been seeking the broad voice of business, in particular focused on SMEs, to maximise growth opportunities.
The panel members
Ian Cheshire, CEO Kingfisher
Appointed to the Board in June 2000 and as Group Chief Executive in January 2008. He is also a non-executive director of Whitbread plc, lead non-executive member on the Department for Work and Pensions Board, member of the Prince of Wales Corporate Leaders Group on Climate Change, and a Member of the Business Disability Forum President's Group. In October 2012, Ian became the Chairman of the British Retail Consortium. Ian was previously Chief Executive, B&Q UK from June 2005. He was appointed Chief Executive International and Development in September 2002, Chief Executive of e-Kingfisher in May 2000 and was Group Director of Strategy. Before joining Kingfisher he worked for a number of retail businesses including Sears.
Dale Murray CBE, entrepreneur and angel investor
Dale Murray is a successful technology entrepreneur turned award-winning angel investor.
New Zealand-born Dale was part of the founding team that launched Vodafone NZ in 1992. She then relocated to the UK and co-founded mobile pioneer Omega Logic, launched prepay top-ups and built gross turnover to £450 million within 5 years. After exiting, Dale turned to investing in start-ups and after early success, was awarded British Angel Investor of the Year in 2011.
Dale advises many growing businesses and she is also a Non-Executive Director at the Department for Business, Innovation & Skills (BIS), UK Trade & Investment (UKTI) and Sussex Place Ventures. She is a Board Advisor to Seedrs and the Centre for Entrepreneurs.
Dale was awarded a CBE by HM the Queen in 2013, for services to business.
Marc Bolland, Chief Executive M&S
Marc began his career at Heineken NV in The Netherlands in 1987, occupying several Marketing and Sales management roles. In 1995 he was appointed Managing Director for Heineken in Slovakia, becoming Managing Director for Heineken Export Worldwide in 1999. Marc was then appointed to the Board of Heineken NV in 2001 with responsibility for Western Europe, US, Latin America, Northern Africa and Global Marketing. In 2005 he became Chief Operating Officer. He joined Morrisons in September 2006 as Chief Executive Officer. Marc is currently non-executive Director of Manpower Inc US, and has previously held non-executive Director roles at Hotel de I'Europe, The Netherlands (2003-2006), Quilmes, Argentina (2001-2003). He was appointed CEO of M&S in May 2010.
Paul Walsh, Diageo
Paul Walsh was Chief Executive, Diageo plc from 1 September 2000 to 30 June 2013 and is now an Advisor to the Chairman and Chief Executive.
Paul joined GrandMet's brewing division in 1982 and became Finance Director in 1986. He held financial and commercial positions with Inter-Continental Hotels and in the GrandMet food business, becoming CEO of The Pillsbury Company in 1992. Paul was appointed to the GrandMet Board in October 1995 and to the Diageo Board in December 1997.
Paul is a non-executive director of FedEx Corporation, Unilever plc, and Avanti Communications plc. He was previously a non-Executive Director of Centrica plc, stepping down in May 2009. Paul will become non-Executive Director, Compass Group plc in January 2014 and is expected to become Non-Executive Chairman in February 2014.
He has also been appointed Business Ambassador for the food and drink industries by the UK Department for Business, Innovation and Skill and is a Council Member, and former Chairman, of the Scotch Whisky Association.
Louise Makin, CEO BTG
Louise joined BTG as Chief Executive Officer in October 2004 and she is a non-executive director of Intertek Group plc and a Trustee of the Outward Bound Trust. From 2001, she was President, Biopharmaceuticals Europe of Baxter Healthcare, where she was responsible for Europe, Africa and the Middle East. Louise joined Baxter Healthcare in 2000 as Vice President, Strategy & Business Development Europe. Before joining Baxter, she was Director of Global Ceramics at English China Clay and prior to that she held a variety of roles at ICI.
Glenn Cooper, Managing Director/Owner ATG Access
ATG Access is the country's leading electronic bollard company. Glenn Cooper appointed as MD in 2002 who completed a full management buy out in 2006. Now export to over 40 countries annually. Expect to achieve revenues of between £35 to 40 million over the next 5 years following significant investment from LDC Private Equity (part of the Lloyds banking group).
Notes to editors
The government has worked with partners across Europe to improve the regulatory environment in the EU, has ended the practice of 'gold-plating' EU regulations, and is reforming or abolishing hundreds of domestic regulations through the Red Tape Challenge. Government reforms have already saved business some £1 billion in reduced regulatory costs.

The taskforce received evidence from 90 UK businesses and business organisations, and over 20 business organisations across Europe. It focused in particular on barriers to:
starting a business and hiring staff
innovation: including developing, patenting and marketing new products and services
business expansion
exporting
overall competitiveness and day-to-day operations
The government's economic policy objective is to achieve 'strong, sustainable and balanced growth that is more evenly shared across the country and between industries'. It set 4 ambitions in the 'Plan for Growth', published at Budget 2011:
to create the most competitive tax system in the G20
to make the UK the best place in Europe to start, finance and grow a business
to encourage investment and exports as a route to a more balanced economy
to create a more educated workforce that is the most flexible in Europe
Work is underway across government to achieve these ambitions, including progress on more than 250 measures as part of the Growth Review. Developing an Industrial Strategy gives new impetus to this work by providing businesses, investors and the public with more clarity about the long-term direction in which the government wants the economy to travel.
Published 15 October 2013