ADI standards check: simpler and clearer grading structure
The Driver and Vehicle Standards Agency (DVSA) has announced a simpler and clearer grading structure for driving instructors.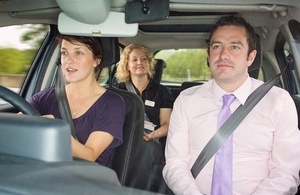 Driving instructors will be given one of the following grades after their standards check:
A grade (85% or over) - an overall high standard of instruction
B grade (60% or over) - a sufficient level of competence
Fail (less than 60%) - an unsatisfactory performance
It will also make it easier for learners and their parents to understand. They'll then be able to make a more informed decision when choosing an instructor.
DVSA wants to keep working with the industry to help the top grade instructors promote the higher level of competence that they've worked hard to achieve.
The new standards check
During the new standards check, the examiner will assess how well the instructor meets the objectives set out in the 'National standard for driver and rider training'.
An instructor who gets a 'fail' grade will be given another standards check within 12 weeks to allow them to show that their level of tuition has improved and that they meet the standards.
Published 13 March 2014