News story
South Pacific Network meets in Suva
The South Pacific Network (SPN) consists of the British High Commission in Fiji, Papua New Guinea (PNG) and Solomon Islands.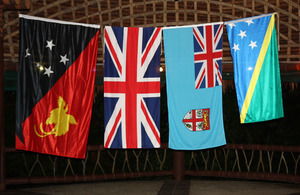 Today, heads of the SPN are meeting in Suva to discuss a range of issues that affect the Network and to put together its business plan for 2013-14. This is the first time the heads of the Network are holding such a meeting.
The SPN is currently under the leadership of Jackie Barson, British High Commissioner to PNG.
British High Commissioner to Fiji
Published 4 March 2013