News story
Shingles vaccine update
Supply of shingles vaccine will be restored as of today (4 December 2013).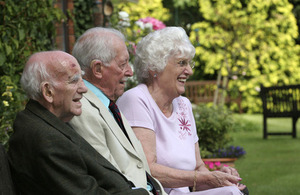 Shingles, or herpes zoster, is an infection of a nerve and the area of skin around it. In serious cases, it causes a rash of very painful, fluid-filled blisters on the skin that can burst and turn into sores that eventually crust over and heal.
People aged 70 and 79 on 1 September 2013 are being offered the shingles vaccine this year, as part of a vaccination programme to reduce the incidence and severity of shingles disease in older people. The cohort of 70 to 79 year olds was identified as the group most likely to benefit from vaccination because they have a high incidence of shingles and related complications.
Above the age of 80 the vaccine effectiveness decreases substantially, so the Joint Committee on Vaccination and Immunisation (JCVI) decided that the optimal age to routinely offer protection to those at risk would be at 70 years of age, with a phased catch up programme for those aged 71 to 79 years.
As this is a large age group, the catch-up programme needs to be staggered, due to limited vaccine supply. Those who are aged 79 years on 1 September 2013 are being prioritised this year as they will no longer be in the target age group next year.
Currently Public Health England (PHE) is subject to a temporary delay with the supply of the shingles vaccine, Zostavax®, into the UK. The disruption to supply will continue until normal supplies are restored by the manufacturer, Sanofi Pasteur MSD (SPMSD), likely to be in December.
Vaccines are subject to lengthy rigorous testing before they are passed for supply to the UK. This testing has taken longer than anticipated, causing vaccine deliveries to be temporarily delayed. Such delays are unusual but not unknown.
National distribution of the Zostavax® began on 1 August, based on assurances of continuity of supply from SPMSD. A significant volume of Zostavax® has already been distributed throughout the NHS in England, allowing many clinics to go ahead as planned.
Bruce Taylor, Head of Vaccines and Countermeasures Response at PHE, said:
Although we are disappointed with the delay of the shingles vaccine arriving in the UK as planned, PHE is working with the manufacturer to agree remedial action and resume supplies as quickly as possible.

A large quantity of vaccine has already been distributed across the UK to start the programme which began on 1 September.

We do not expect this temporary delay to impact the overall programme to immunise 70 and 79 year olds. The vaccine can be administered to the 2 eligible cohorts at any time between 1 September 2013 and 31 August 2014.
The incidence of shingles in England and Wales is estimated at 790 to 880 cases per 100,000 people per year for those aged 70 to 79 years.
This vaccination programme is preventive; it aims to reduce the pressure on GPs, hospitals as well as pain suffered by the patient by circumventing the disease.
A shingles Q and A for healthcare professionals is available.
Update 4 December 2013: Supply of shingles vaccine is restored as of today.
Published 29 October 2013
Last updated 4 December 2013
+ show all updates
Update: Supply of shingles vaccine will be restored as of today.
Updated the 5th paragraph, end of 2nd sentence from "likely to be later in November or December" to "likely to be in December".
First published.