Press release
People aged 70 and 79 years offered shingles vaccine
This vaccination programme aims to reduce the incidence and severity of shingles disease in older people.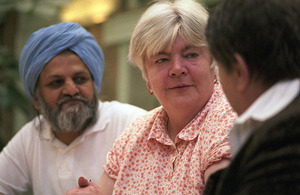 People aged 70 and 79 will be offered a shingles vaccination this year, as part of a vaccination programme to reduce the incidence and severity of shingles disease in older people.
Shingles, or herpes zoster, is an infection of a nerve and the area of skin around it. In serious cases, it causes a rash of very painful, fluid-filled blisters on the skin that can burst and turn into sores that eventually crust over and heal.
A catch-up programme to protect those aged 70 to 79 years will also be rolled out over several years, starting with those aged 79 years on 1st September 2013.
It's estimated 800,000 people in the UK will be eligible for the vaccine in the first year.
Dr Paul Cosford, Director for Health Protection and Medical Director at PHE, said:
Shingles is caused by the same virus that causes chickenpox. When you recover from chickenpox most of the virus is destroyed but some survives and lies inactive in the body in the nervous system. It can then reactivate later in life when your immune system is weakened by increasing age, stress or treatments that reduce your immunity.

It is most common in people aged over 70 years, but by having the vaccine you will be reducing your chances of developing shingles by more than a third.
Health Minister Lord Howe said:
Shingles can be a nasty disease for older people and can lead to long term health problems for around 14,000 people each year. This new vaccine can prevent some of the most serious cases, giving people the chance to live without the discomfort and pain that shingles causes.
Ends
Notes to editors:
All people aged 70 on 1 September 2013 are eligible (all those born between 2 September 1942 and 1 September 1943, inclusive).

If you're over 70 and under 80, you will be invited to have the vaccination on a 'catch-up' basis. People aged 79 will be offered the vaccine first (all those born between 2 September 1933 and 1 September 1934, inclusive). In future years, this will be followed by 78-year-olds, etc. with the exact timing depending on vaccine availability.

Public Health England's mission is to protect and improve the nation's health and to address inequalities through working with national and local government, the NHS, industry and the voluntary and community sector. PHE is an operationally autonomous executive agency of the Department of Health.
Infections press office
PHE press office, infections
61 Colindale Avenue
London
NW9 5EQ
Published 3 September 2013