Press release
Rollout of flagship welfare reform Universal Credit reaches historic milestone
Universal Credit is now in every jobcentre across the country for single jobseekers.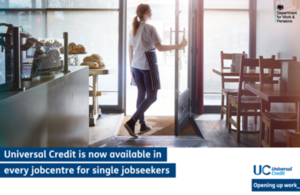 From John O'Groats to Land's End, all single jobseekers can now claim Universal Credit as the government delivers on its commitment to revolutionise welfare.
Universal Credit is now operating from every jobcentre in the country for single jobseekers, having reached the final 3 jobcentres – Purley, Thornton Heath and Great Yarmouth.
Over 450,000 people have made a claim to Universal Credit so far, with over 9,500 new claims made every week.
Universal Credit is revolutionising the welfare state by making work pay. It is already transforming lives across the country, with claimants moving into work faster and earning more than under the old system.
Work and Pensions Secretary Stephen Crabb said:
All new single jobseekers across the country can now receive modern and improved personalised support through Universal Credit – marking an important milestone in the delivery of our welfare reforms.

Universal Credit is transforming welfare and is central to our vision for our society where people of all backgrounds can earn a decent wage and provide for their families, with claimants moving into work faster and earning more than under the old system. Our focus now is on continuing its expansion to all claimants.
Welfare Reform Minister Lord Freud said:
The driving force of our reforms was to create a welfare system that allows people to break free of dependency and move into work.

Universal Credit is that system – it is giving people the confidence, self-esteem, and security that only a job and a pay-packet brings. Across the country nearly a quarter of a million people are claiming Universal Credit and tens of thousands of them are now in work.
Universal Credit is a ground-breaking benefit which gives people one-to-one support from a dedicated job coach to help them move into work – and then to progress in their jobs. Whether it's through face-to-face meetings or support over email or online through their Universal Credit account – Universal Credit is moving welfare into the 21st century.
Universal Credit is different to the old system because it stays with a claimant as they move into work, and for the first time ever, low paid workers are helped to increase their hours and their earnings.
With 40% of those claiming Universal Credit now in work, the new system is expected to boost national employment by 250,000. The latest figures show that for every 100 people who find work under the old JSA system, 113 Universal Credit claimants will have moved into a job.
Universal Credit makes it easier to start work and earn more
Makes work pay
There are none of the cliff edges of the old system. As your earnings increase, your Universal Credit payments reduce at a steady rate, so you can be sure you will always be better off working and earning more.
Stays with you after you move into work
With Universal Credit, your claim stays with you, even when you move into work. Unlike the old system, you can work as many hours as you want and take on short contracts without having to end your claim, helping to build up experience for a full time position.
Offers personalised support to progress in your career
Under the old system, as soon as you moved into work, you were on your own. But with Universal Credit you can still get support. For the first time ever, your jobcentre work coach will stay with you, helping you to increase your hours, earn more and progress in your chosen career.
Helps with childcare costs
Under Universal Credit, working families can claim back up to 85% of their childcare costs each month. You can claim this up to a month before starting a job so you can focus on getting ready for work and so your child can settle in to a new routine. For families with 2 children this could be worth up to £13,000 a year.
Mirrors the world of work
Like most jobs, Universal Credit is paid in a single monthly amount direct into your bank account, giving you control over your own money and making the move into work easier.
Universal Credit is central to this one-nation government's welfare reforms, replacing 6 benefits with one monthly payment. It is a system designed to make work pay, and sweeps away the complexities, traps, and confusions of the previous system.
More about Universal Credit
Universal Credit is now available in all jobcentres across the country for single jobseekers.
Universal Credit will eventually replace:
Jobseeker's Allowance
Income Support
Employment and Support Allowance
Working Tax Credits
Child Tax Credits
Housing Benefit
Families on Universal Credit can claim childcare support up to a month before they start a job and up to a month after their employment finishes, to ensure that children do not lose their nursery place.
Under Universal Credit, families with 1 child can receive up to £646.35 a month and families with 2 or more children can receive up to £1108.04 a month.
With access to HMRC's real time earnings data, benefit payments can now be calculated exactly, and adjusted automatically to significantly reduce overpayments and ensure people receive the correct level of support both in and out of work.
On 27 April 2016 Universal Credit became available to all new single claimants in Purley, Thornton Heath and Great Yarmouth. These are the final jobcentres in the rollout for single jobseekers.
Contact Press Office
Media enquiries for this press release 020 3267 5112
Press Office
Caxton House
Tothill Street
London
SW1H 9NA
London Press Office (national media and London area enquiries only – not questions about personal claims) 020 3267 5144
Out-of-hours (journalists only) 07623 928 975
England and Wales (local media enquiries) 029 20 586 then 097 or 098 or 099
Scotland (local media enquiries) 0131 310 1122
Follow DWP on:
Published 3 May 2016