Press release
Records management merger may require sales
Iron Mountain could have to sell sites in the Aberdeen and Dundee areas following completion of its acquisition of shares in Recall.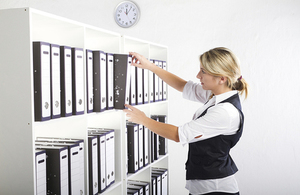 Both companies supply records and information management services (RIMS) in the UK - specifically records management services (RMS), which comprise the storage and retrieval of paper and hard copy records, and physical offsite data protection (OSDP) services, which involve the storage and retrieval of data and media on tapes/discs. The 2 companies operate from a total of 58 sites across the UK.
The parties both provide RMS and physical OSDP to national and local customers, and oil and gas customers with more specialist requirements, such as for storage of geological 'core' samples. The need to be able to access such information quickly means that customers require such facilities to be located nearby - generally within a 50-mile radius.
The Competition and Markets Authority (CMA) referred the case for a phase 2 investigation in January 2016 (see notes for editors).
In its provisional findings published today, the inquiry group of independent panel members investigating the merger has provisionally found that in most areas of the UK where both companies are active, there will be sufficient alternative suppliers to preserve competition and ensure that the merged company will be prevented from raising prices or otherwise reducing the level of service to customers.
However in the Aberdeen and Dundee areas, the merged company would face fewer competitors with little prospect of new entry and expansion to counteract this. As such, the group has provisionally identified a substantial lessening of competition (SLC) in the supply of RMS and OSDP services in the Aberdeen and Dundee areas - as well as an SLC in the supply of specialist RIMS services to oil and gas customers in the Aberdeen area.
As well as the provisional findings, a notice of possible remedies has been published which outlines potential ways to address the competition concerns, including the potential sale of sites in the affected areas.
Anne Lambert, Inquiry Chair, said:
The presence of alternative suppliers in most areas of the UK means that we believe that customers overall won't lose out as a result of this merger. We do have concerns in the Aberdeen and Dundee areas where customers currently have less choice and where the situation would be worsened by the merger. We will now discuss with Iron Mountain how they can address our concerns.
Anyone wishing to respond to the provisional findings and notice of possible remedies should do so in writing, by no later than 25 May 2016. Please email iron.recall@cma.gsi.gov.uk or write to:
Iron Mountain/Recall merger inquiry
Competition and Markets Authority
Victoria House
Southampton Row
London
WC1B 4AD

Notes for editors
The CMA is the UK's primary competition and consumer authority. It is an independent non-ministerial government department with responsibility for carrying out investigations into mergers, markets and the regulated industries and enforcing competition and consumer law. For more information on the CMA see our homepage or follow us on Twitter @CMAgovuk, Flickr and LinkedIn. Sign up to our email alerts to receive updates on merger cases.
The merger was referred for a phase 2 investigation in January 2016, when it was still anticipated, and the provisional findings describe it as such. Although the merger has just completed at a global level, 'hold separate' undertakings prevent Iron Mountain from integrating Recall's UK business until completion of the CMA's investigation. For more information, see the case page.
All the CMA's functions in phase 2 merger inquiries are performed by inquiry groups chosen from the CMA's panel members. The appointed inquiry group are the decision-makers on phase 2 inquiries.
The CMA's panel members come from a variety of backgrounds, including economics, law, accountancy and/or business; the membership of an inquiry group usually reflects a mix of expertise and experience.
The members of the inquiry group are: Anne Lambert (Chair), Robin Aaronson, Lesley Ainsworth and Graham Sharp.
Enquiries should be directed to Rory Taylor (rory.taylor@cma.gsi.gov.uk, 020 3738 6798).
Published 4 May 2016