News story
Progress made since last year's Joint Ministerial Council
Progress that the UK and the Overseas Territories have made since last year's Joint Ministerial Council.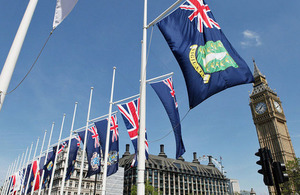 Since the elected leaders of the Overseas Territories met UK Ministers last year and agreed a communiqué, much progress has been made in furthering our vision for the territories. As described by the Foreign Secretary in his foreword to the White Paper our vision is of a family of 'flourishing communities, proudly retaining aspects of their British identity and creating new opportunities for young and future generations; of natural environments protected and managed to the highest international standards'.
Read about the progress made by the UK and the territories in the following reports:
Further information
The report on the Cayman Islands will be published here soon.
Learn more about the Overseas Territories on facebook and twitter @British_OTs
Follow the Foreign Office on twitter @foreignoffice
Follow the Foreign Office on facebook and Google+
Published 26 November 2013