Prime Minister's roundtable with senior representatives of Japanese businesses
Today, the Prime Minister held a roundtable at 10 Downing Street with senior representatives of Japanese businesses that are significant investors in the UK.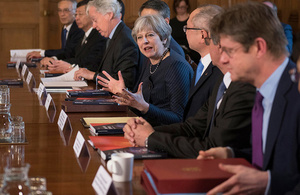 Alongside the Chancellor, Business Secretary and International Trade Secretary, the Prime Minister discussed the role of our modern Industrial Strategy in making the UK an even more attractive destination for Japanese and international investment, as well as the UK-Japan trade and investment relationship.
Discussions also covered the opportunities and challenges presented by the UK's exit from the EU.
A Downing Street spokesperson said:
The Prime Minister set out her vision for an outward looking, global Britain, and the long-term opportunities presented by the modern Industrial Strategy.

The strength of the trade, investment and cultural relationship between the UK and Japan was discussed. The Japanese businesses present spoke of their desire to continue trading with, and investing in the UK.

The Prime Minister reaffirmed the Government's commitment to securing a new deep and special partnership with the EU as the UK leaves the EU.

She reiterated her commitment to global free trade, and she recalled her discussions with Prime Minister Abe in Japan in August last year, and their agreement that, as the UK exits the EU, the UK and Japan will work quickly to establish a new economic partnership based on the final terms of the EU-Japan Economic Partnership Agreement.

Business representatives expressed their appreciation for the opportunity for constructive dialogue with the Government, and agreed on the importance of the time-limited implementation period in providing clarity and certainty for people and businesses.

There was also agreement on the importance of moving quickly in the negotiations to secure a trading relationship with the EU that is as tariff-free and frictionless as possible following the implementation period.

In closing, the Prime Minister committed to maintaining a constructive dialogue between Government and business as EU exit negotiations progress.
List of attendees
Rt. Hon. Phillip Hammond MP, Chancellor of the Exchequer
Rt. Hon. Greg Clark MP, Secretary of State for Business, Energy and Industrial Strategy
Rt. Hon. Liam Fox MP, Secretary of State for International Trade
H.E. Koji Tsuruoka, Japanese Ambassador to the UK
Sir Stephen Gomersall, Deputy Chairman Hitachi Europe Ltd
Mr Mark Haviland, Managing Director Rakuten
Mr Haruki Hayashi, CEO Mitsubishi Corporation
Mr Gary Hendler, President EMEA Region, Chairman and CEO Eisai
Mr Ian Howells, Senior Vice President Honda
Mr Tetsuro Imaeda, CEO of SMBCE and Managing Executive Officer SMBC
Mr Masumi Kakinoki, Senior Managing Executive Officer Marubeni Corporation
Mr Atsushi Kume, Managing Director Mitsui & Co Europe
Mr Masahiro Kuwahara, CEO EMEA MUFG
Mr Yasuo Kashiwagi, Executive Chairman, Nomura Europe Holdings plc and Nomura International plc
Mr Rajeev Misra, CEO Softbank Investment Advisers UK
Mr Yasushi Morimoto, Managing Director Panasonic Manufacturing UK Ltd
Mr Kazuo Okamoto, Chief Executive Mitsubishi Heavy Industries Europe Ltd
Mr Ken Sakai, Managing Director KDDI Europe
Mr Takashi Takenoshita, CEO Shionogi
Mr Shinsuke Toda, Managing Director, Head of Europe Department Mizuho
Dr Johannes Jacobus van Zyl, President and CEO Toyota Motor Europe
Mr Paul Wilcox, EU VP Nissan
Mr Takaaki Hanaoka, Secretary General JCCI
Published 8 February 2018