Press release
Prime Minister hosts reception in Downing Street to celebrate St David's Day
Prime Minister Theresa May hosts a Downing Street reception to celebrate St David's Day and wishes everyone a happy St David's Day.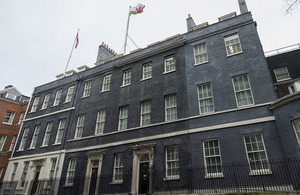 Prime Minister Theresa May is hosting a reception to celebrate St David's Day in Downing Street today where she will welcome guests from the worlds of business, media, tourism, sport and the charity sector.
A number of companies will be showcasing their products at the event including Welsh whisky, beer and wine as well as cheese from Snowdonia and Welsh cakes. There will also be a performance from the Welsh choir, Côr Heol y March.
Prime Minister Theresa May said:
I am pleased to be celebrating St David's Day with a reception in Downing Street.

Our precious Union is at the heart of everything my government does, which is why Wales was one of the first places I visited when I became Prime Minister.

And, today, as the Welsh flag flies high alongside the Union flag over Downing Street, we are reminded of the huge part Wales has played in our history and the crucial role it will play in the future prosperity of the UK.

I wish you all a very happy St David's Day.
Secretary of State for Wales Alun Cairns said:
Today, we have a wonderful opportunity to celebrate our national day amongst the people making their indelible mark in their communities, their country, and across the world.

From our brave service men and women to our great figures from the arts, business, culture and sport, these are the people helping to make Wales' future as glorious as its rich and illustrious history.

I send my warmest wishes to everyone celebrating St David's Day at home and around the world.
Published 1 March 2017