Press release
PM to visit Wales to underline her strong personal support for the union
Prime Minister Theresa May will meet First Minister of Wales Carwyn Jones and confirm the government will fully engage with Wales in Brexit negotiations.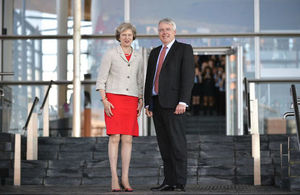 The Prime Minister will meet the First Minister of Wales, Carwyn Jones, in Cardiff today.
Theresa May will emphasise her strong personal support for the Union in talks with the First Minister at the Welsh Assembly.
The Prime Minister will also affirm the government's commitment to fully engaging with the Welsh government in the forthcoming negotiations about the UK's exit from the European Union and finding a sustainable future for steel making in Port Talbot.
Speaking ahead of the visit, the Prime Minister said:
In my first statement as Prime Minister I made clear how strongly I believe in the Union. I want to say to the people of Wales that the government I lead will always be on your side - and that means I will stand up for you and your family against injustice and inequality.

My government is committed to helping the steel industry secure a long-term viable future in Wales. The steel industry is vital to the UK and we will do everything we can to look after the workers and wider community as we work with Tata and the Welsh government.

Whether it's reforming the economy or strengthening our society, we are going to build a better Britain and a nation that works for everyone – not just the privileged few.
Published 18 July 2016