News story
PM visits Wales before triggering Article 50
The Prime Minister visited Wales as part of her ongoing engagement with the devolved nations ahead of triggering Article 50.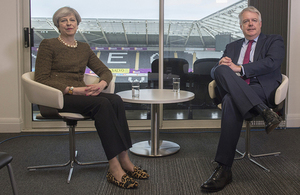 As part of a series of visits around the UK – including to Wales, Scotland and Northern Ireland – the Prime Minister will be engaging and listening to people from right across the nation as we prepare to leave the EU as one United Kingdom.
This comes as Swansea signs its historic City Deal which is expected to create more than 9,000 jobs and trigger almost £1.3 billion in investment. The deal formed between the UK government, local authorities and the Welsh government, paves the way for major infrastructure investment in the Swansea Bay City Region, ranging from research centres to a new waterfront 'digital district'.
During the visit, the Prime Minister, accompanied by the Secretary of State for Exiting the EU and the Secretary of State for Wales, will meet with First Minister Carwyn Jones as well as representatives from a range of sectors and businesses.
The main point of discussion will be how every part of the UK, including Wales, can make the most of the opportunities offered by Brexit. The Welsh export market is worth around £12.3 billion a year – showing that there has never been a better time for Welsh companies to export overseas.
Wales is already a successful exporter – shipping aircraft wings to the world, cooling technology to the Middle East and TV formats to dozens of countries.
Prime Minister Theresa May said:
From my first day on the steps of Downing Street, I made clear my determination to strengthen and sustain the precious Union. I have also been clear that as we leave the European Union I will work to deliver a deal that works for the whole of the UK.

I want every part of the United Kingdom to be able to make the most of the opportunities ahead and for Welsh businesses to benefit from the freest possible trade as part of a global trading nation.

Wales' universities already have an excellent international reputation, attracting overseas students and pioneering in research projects here and abroad.

I also want Wales to be at the forefront of science and innovation – as demonstrated by today's landmark City Deal for Swansea.

The deal is a great example of what can be achieved when the UK government, the Welsh government and local authorities work together to secure a deal that benefits the city and the whole of Wales.

This government's Plan for Britain will seek to deliver a stronger, fairer United Kingdom and a better deal for ordinary working people in Wales and across the nation.
Alun Cairns, Secretary of State for Wales, said:
The Swansea Bay Region City Deal shows just what can be achieved when government and the private sector come together and find local solutions that can bring lasting benefits to an area.

The city deal will build on the strengths of the region and the opportunities available, helping Swansea compete with some of the world's best cities through exciting digital technology.

This is a fantastic chance for Swansea to prosper and reap the benefits from close partnerships that are focused on securing genuine wins for a local area.
Watch the Prime Minister speak about her visit
Prime Minister speaks about her visit
Further information
Key elements of the Swansea Bay City Region include:
£1.3 billion funding made up of £115 million from the UK government; £125.4 million from the Welsh government; £396 million from businesses with the remainder coming from local area and university contributions
100% coverage for next generation broadband services and 5G test beds
a partnership with Tata Steel to establish an innovation and knowledge centre for steel, including a focus on zero carbon steel making and future sustainability of the industry
new facilities to attract tech and digital business to Swansea City and Waterfront Digital District
PDF, 206KB, 19 pages
This file may not be suitable for users of assistive technology. Request an accessible format.
If you use assistive technology (such as a screen reader) and need a version of this document in a more accessible format, please email publiccorrespondence@cabinet-office.gsi.gov.uk. Please tell us what format you need. It will help us if you say what assistive technology you use.