Case study
WW1 Canadian VC recipient Harry W Brown
The story of Canadian First World War Victoria Cross Recipient Harry W Brown.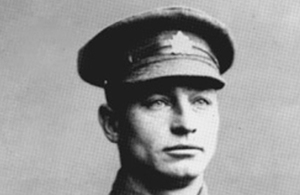 70 men from Canada received the Victoria Cross, Britain's highest award for gallantry, during the First World War. As part of the Centenary Commemorations the people of the United Kingdom marked their gratitude to those courageous men by presenting a bronze memorial plaque to their home country engraved with their names. The plaque is now displayed at the British High Commission Ottawa. This archive tells their stories.
Name: Harry W Brown
DOB: 11 May 1898
Place of Birth: Gananoque, Ontario, Canada
Date of Action: 16 August 1917
Place of Action: Lens, France
Rank: Private
Regiment: 10th Infantry Battalion, Canadian Expeditionary Force
Harry W Brown was born on 11 May 1898 in Gananoque, Ontario, Canada. He worked as a farmer before enlisting in the Canadian Expeditionary Force in 1916.
Private Brown was serving with the 10th Infantry Battalion when his bravery led him to be posthumously awarded the Victoria Cross for his actions on 16 August 1917. Parts of the battalion had managed to advance around Hill 70 in Lens, France, when a German counter-attack put them in a critical situation with all communications cut to the rear. Brown and one other were chosen to get a vitally important message through, as his citation explains:
It was of the utmost importance to get word back to Headquarters. This soldier and one other were given the message with orders to deliver the same at all costs. The other messenger was killed. Pte. Brown had his arm shattered, but continued on through an intense barrage until he arrived at the close support lines and found an officer. He was so spent that he fell down the dugout steps, but retained consciousness long enough to hand over his message, saying, "Important message." He then became unconscious, and died in the dressing station a few hours later. His devotion to duty was of the highest possible degree imaginable, and his successful delivery of the message undoubtedly saved the loss of the position for the time and prevented many casualties.
Private Brown is buried in the Noeux-Les-Mines Communal Cemetery.
Published 20 June 2016