Press release
PM meeting with Prime Minister Sharif of Pakistan, 25 April 2015
Prime Minister David Cameron met with Prime Minister Nawaz Sharif of Pakistan and discussed the situation in Yemen and Afghanistan.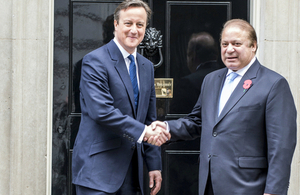 A Downing Street spokesperson said:
The Prime Minister welcomed Prime Minister Sharif of Pakistan to Downing Street following their attendance at the Gallipoli commemorations at the Cenotaph earlier this morning. The leaders took the opportunity to discuss a number of regional issues, including the situation in Yemen and Afghanistan. The leaders set out their support for finding a diplomatic solution to the crisis in Yemen and working with Saudi Arabia to help bring about this transition. Prime Minister Sharif also updated the Prime Minister on Pakistan's work with Afghanistan towards a peace process. The Prime Minister said that it was in Britain and the wider region's interest to see stability and a close working relationship between both countries.
Published 25 April 2015