Press release
PM meeting with New Zealand Prime Minister John Key
The Prime Minister welcomed the Prime Minister of New Zealand John Key to Downing Street today.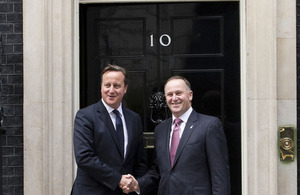 A Downing Street spokesperson said:
The Prime Minister noted the strength of the bilateral relationship between the UK and New Zealand and the shared history of the two countries over the last 170 years. He also highlighted the importance of recent cooperation between the UK and New Zealand on international issues including Syria and Afghanistan.

Both Prime Ministers agreed on the need to continue strengthening and broadening the relationship. They discussed increasing trade opportunities between New Zealand and the UK as a gateway to the EU. They also discussed the important role British companies and expertise could play in the reconstruction of Christchurch, following the 2011 earthquake.

With two years to go until the 2015 Rugby world Cup, the two Prime Ministers marked the occasion at the end of the meeting by exchanging rugby balls.
Pictures of the meeting can be found on the Number 10 Flickr channel.
Published 18 September 2013