Press release
PM meeting with NATO Secretary General Rasmussen
The Prime Minister welcomed the NATO Secretary General, Anders Fogh Rasmussen, to Downing Street today.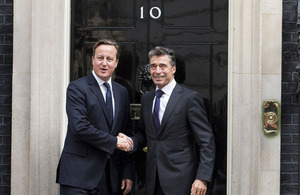 A Downing Street spokesperson said:
On Afghanistan, the Prime Minister highlighted progress in Helmand, and the UK's continued commitment to Afghanistan after 2014, through our support for the Officer training academy in Kabul, and funding for the Afghan Security Forces. The Secretary General welcomed this support.

On Syria, the Prime Minister and Secretary General reiterated the need for a robust response to the chemical weapons attack through a UN Security Council Resolution setting out a binding and credible mechanism for the destruction of chemical weapons.

The Prime Minister briefed the Secretary General on his meeting with the Libyan Prime Minister yesterday and they both agreed on the need for NATO member countries to support the development of Libya's security sector.

On NATO and EU defence, they agreed on the benefits of cooperation between the two, with a focus on creating complementary capability, but avoiding unnecessary duplication.
Pictures of the meeting can be found on the Number 10 Flickr account.
Published 18 September 2013