News story
PM announces Tornado deployment
Two more UK Tornados will join the military operation to help tackle ISIL (Islamic State of Iraq and the Levant).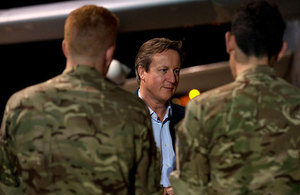 David Cameron announced the deployment of 2 additional Tornados as part of the operation to tackle the ISIL threat in Iraq. It came as he visited RAF Akrotiri in Cyprus where he also met UK military personnel.
Royal Air Force Tornado GR4 aircraft have been in action over Iraq as part of international operations against ISIL. Read more about the UK government's response to ISIL.
Published 3 October 2014