Press release
Opportunity to propose new screening topics
The UK National Screening Committee is inviting proposals for new conditions for national screening programmes.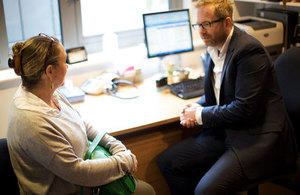 The UK National Screening Committee (UK NSC) has put out an annual call for the first time, which will enable any individual or organisation to submit a proposal for a condition to be considered for a population-wide screening programme.
The call for new screening topics is being piloted this year. The pilot will measure the volume of work that the process may generate and assess its effectiveness. If successful, it is hoped the process can continue on an annual basis.
Any proposals received will be evaluated against UK NSC screening criteria, but any condition previously considered by the Committee will not be included.
The window for submissions for new topics begins at midday today (26 September 2016) and remains open for over 15 weeks, closing at midnight on Monday 9 January 2017.
The UK NSC will respond to each submission within 6 weeks after the annual call closes.
Dr Anne Mackie, Director of Programmes for the UK NSC, said:
A key aim of the new annual call is to ensure full transparency in the way the UK NSC chooses its topics. We have over 400 registered stakeholders and many other groups interested in our work, so it's only right that those keen to see a new screening programme for a health condition introduced in the UK should be able to submit a proposal.

Some of the screening programmes proposed will be covered by existing recommendations which are already reviewed regularly by the Committee, but others may be completely off our radar.

All proposals will be evaluated against the Committee's screening criteria and we will provide constructive feedback to all those who have taken the time and effort to offer a submission.

We hope the annual call will become a regular event, and launching it as a pilot will go some way in monitoring its success.
There are currently 11 population screening programmes in England. The UK NSC regularly reviews the evidence for current screening programmes, and for conditions which the Committee has considered in the past.
Information on how to submit a proposal for a new screening topic can be found in UK NSC guidance.
PHE screening press office
Background
The UK NSC is independent of, but supported by, Public Health England (PHE).
PHE exists to protect and improve the nation's health and wellbeing, and reduce health inequalities. It does this through world-class science, knowledge and intelligence, advocacy, partnerships and the delivery of specialist public health services. PHE is an operationally autonomous executive agency of the Department of Health. Follow us on Twitter: @PHE_Screening and our blog.
The annual call process is not for conditions where the UK NSC currently recommends against screening. If anyone wishes to provide evidence relating to these conditions, this has to be done through the usual 3 yearly review process.
Published 26 September 2016