One millionth screening milestone reached for AAA
The NHS Abdominal Aortic Aneurysm (AAA) programme screens its one millionth 65-year-old man in January 2016.
This news article was withdrawn on
This press release has been withdrawn because it's over 3 years old. See PHE's latest news.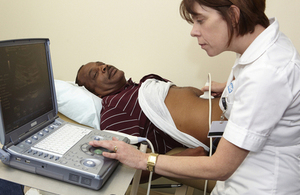 January marks a significant screening milestone, with the NHS AAA programme screening its one millionth 65-year-old man.
The national programme aims to detect and treat large aneurysms early in order to reduce the number of deaths from ruptured aneurysms. Since it began in 2009, well over 10,000 aneurysms have been detected that need monitoring or treatment and more than 2,000 men with large aneurysms, measuring 5.5cm or wider, have been referred for surgery.
An abdominal aortic aneurysm (AAA) is caused when the main blood vessel in the abdomen weakens and expands. Most AAAs have no symptoms but, if left untreated, aneurysms can grow and rupture, which can be fatal. 8 out of every 10 people with a ruptured AAA die before they reach hospital or fail to survive emergency surgery.
AAA screening is offered to all men registered with a GP during the year they turn 65. Men over 65 who have not been screened can self-refer by contacting their local screening programme directly.
The screening test is a simple ultrasound scan that looks for an enlargement of the aorta, the largest blood vessel in the body with the results available immediately.
Mr Peter Norris, 66, from London was referred for surgery following attending a screening appointment. Mr Norris said:
At first I thought about not bothering to go to my screening appointment, as I wasn't suffering from any symptoms, but I now realise that it saved my life. I was shocked when the screening technician found an aneurysm that was 6.7cm wide and I was referred for surgery to fix it. I now feel very lucky to be fully recovered and living life to the full.
Commenting on the AAA screening milestone, Dr Anne Mackie, Director of Screening at Public Health England (PHE), said:
It's great news that one million 65-year-old men have now been screened for AAA. The death rate after a rupture is about 80%, as many patients die before they reach hospital. The programme has been a major public health success story and has proved to be crucial in detecting and treating large aneurysms, saving the lives of many men.

However, it's important that people know that screening can have harms as well as benefits and it is vital that all eligible men make an informed choice when deciding whether or not to be screened for AAA.
Background information
The UK National Screening Committee (UK NSC) is independent of, but supported by, PHE.
Invitations for AAA screening are sent to all men in England aged 65. Men over the age of 65 can refer themselves for a screening appointment through their GP.
Current evidence suggests that as women are less likely to get swellings of the aorta, offering them abdominal aortic aneurysm (AAA) screening at the age of 65 would do more harm than good. Therefore the UK NSC doesn't currently recommend routine AAA screening for women. However, a review is underway to see if the offer should be extended to women in the future.
Full data for the AAA screening programme is available on GOV.UK.
National Institute for Health and Care Excellence (NICE) guidelines are currently being developed around the management and diagnosis of AAAs.
One of PHE's key priorities is to support local screening providers in meeting national waiting time standards: a maximum of 2 weeks from being referred to being seen by a vascular specialist, and 8 weeks from being referred to having an operation.
Most men are reassured they have a normal result (no aneurysm) and will not need to be screened again. The possible screening results are: * normal (aorta less than 3cm in diameter): man discharged from screening programme * small aneurysm (3 to 4.4cm): man invited back for screening in 12 months * medium aneurysm (4.5 to 5.4cm): man invited back for screening in 3 months * large aneurysm (more than 5.5cm): man referred to vascular surgeon to discuss treatment options, usually surgery
PHE press office: screening
Published 6 January 2016