World news story
Northern Ireland's World Cup qualifier on 11 October
Advice for fans travelling to Azerbaijan Date: 11 October, 2013 Venue: Bakcell Arena (formly known as the 8km Arena) Kick off time: 2100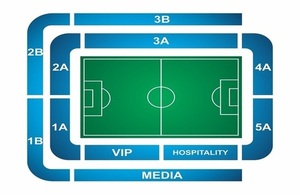 As well as this advice, check out our travel advice for Azerbaijan
Passports and visas
British nationals traveling to Azerbaijan must get a visa in advance and your passport should be valid for a minimum period of 3 months from the expiration date of your Azerbaijani visa
Your European Health Insurance Card (EHIC) is not valid in Azerbaijan, so travel insurance is essential, even if you're only going for one night - it could save you a lot of money if you get into difficulties.
British nationals staying in Azerbaijan for longer than 3 days must register with the nearest police station within 3 working days of arrival. Hotels may provide this service for their guests, but visitors staying in apartments or private residences will have to register by themselves. Each traveller is responsible for ensuring that the registration has been completed. Guidance on the process can be found on the English language pages of the State Migration Service's website. Those staying longer than 30 days are required to register for a residence card. Guidance can be found here. *Police sometimes carry out checks of identity documents. You should carry your passport at all times. Keep it secure and leave a photocopy of the details page separately in a safe place.
Getting to the stadium
The Bakcell Arena is located 10 a minute walk from both Xalqlar Dostlugu and Neftcilar metro stations. The Baku Metro is reasonably maintained and has basic safety equipment and procedures. However, signs are only in Azerbaijani. There are police at each station and security checks of bags and belongings is common. During the morning and evening rush hours the metro can be extremely crowded.
A taxi from central Baku to the Bakcell Arena is likely to cost between 10 and 15 manats. When taking a purple London taxis always make sure that the meter is used. For non-metered taxis it advisable to negotiate a price before departure.
The road from central Baku to the stadium can be especially busy during the evening rush hour and so it is advisable to leave early for the stadium.
At the match
The Association of Football Federations of Azerbaijan (AFFA) advise that fans registered with the Northern Ireland Football Association will be located in the media block. Police and volunteers will be able to direct visiting fans to the correct entrance if required.
Fans travelling independently and UK nationals resident in Azerbaijan will able to purchase tickets for blocks 3A and 3B (6azn), and the hospitality block (50azn).
There will be ticket checks and body searches at the entrance to the turnstiles. To avoid a last minute bottleneck you should get to the stadium early - doors will open at 19:00
In addition to items which would usually be prohibited in the UK, please note the following restrictions at the stadium. Lighters may be confiscated and are unlikely to be returned. No glass bottles or cans are allowed to be brought into the ground, though plastic bottles with cap removed will be permitted. Flags and banners are allowed subject to size and police approval. Musical instruments are not permitted.
Alcohol will be not available within the stadium.
Visiting supporters can expect to be kept behind for around 20 minutes after the match to allow the home fans to disperse.
Tips
Crime levels in Baku are generally low, but muggings do occur from time to time after dark in the centre of town around the western bars and clubs and near dimly lit entrances of private apartments. Take sensible precautions: be vigilant, avoid carrying large sums of money and don't walk alone at night. Try to arrange to be picked up or dropped off as close to your hotel or apartment entrance as possible by a private/company driver, or a known taxi firm.
You can report a crime at any local police station or by telephoning the police on 102. English speaking staff are available on the telephone, but when reporting a crime at a police station take someone with you who can interpret. Don't sign any documents you don't understand.
You are advised against drinking local tap water.
All goods and services are paid in local currency (Manats). Sterling, US dollars and euros are easily exchanged. Major hotels and international supermarkets and restaurants accept credit cards. Most ATMs in Baku will accept UK credit and debit cards. Before you leave the UK, let your bank know you are travelling to Azerbaijan.
You need an export certificate to take antiques or art like carpets, samovars, copperware or paintings out of Azerbaijan. These are available from the Carpet Museum or through the seller.
Most of the population of Azerbaijan is Muslim. Azerbaijan is a largely secular society, and religion is usually considered a private matter. Respect local traditions, customs, laws and religions at all times and be aware of your actions to ensure that they don't offend other cultures or religious beliefs.
Relevant British Embassy/Consulate address and telephone numbers
British Embassy, Landmark II, 45 Khagani Street, AZ1010 Email generalenquiries.baku@fco.gov.uk Telephone + 994 (12) 4377878 Fax + 994 (12) 4977434
Office hours: Monday to Friday 5am - 1pm GMT 9am - 5pm Local Time
Published 3 October 2013