News story
New UK Points of Light award names flood heroes as first winners
David Cameron named 5 volunteers who helped during the recent winter floods as the first recipients of the new UK Points of Light awards.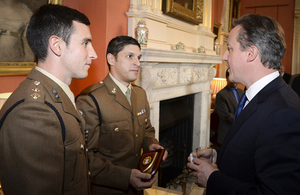 5 inspirational volunteers who stepped up during the recent devastating floods have been named as the first winners of a new UK Points of Light award for volunteering by Prime Minister David Cameron.
The new award recognises outstanding individual volunteers - people who are making a change in their community and inspiring others. It has been developed in partnership with the hugely successful Points of Light programme in America, which was established by President George H W Bush, and has since recognised over 5,000 individuals and has the support of President Barack Obama.
Speaking at today's reception, Prime Minister David Cameron said:
We should do more as a country to recognise volunteering. In America they have Points of Light. President George H W Bush spoke about 1,000 points of light shining out in difficult times. Britain is going to have its own Points of Light scheme.

Today I have had the enormous privilege of handing out the first 5.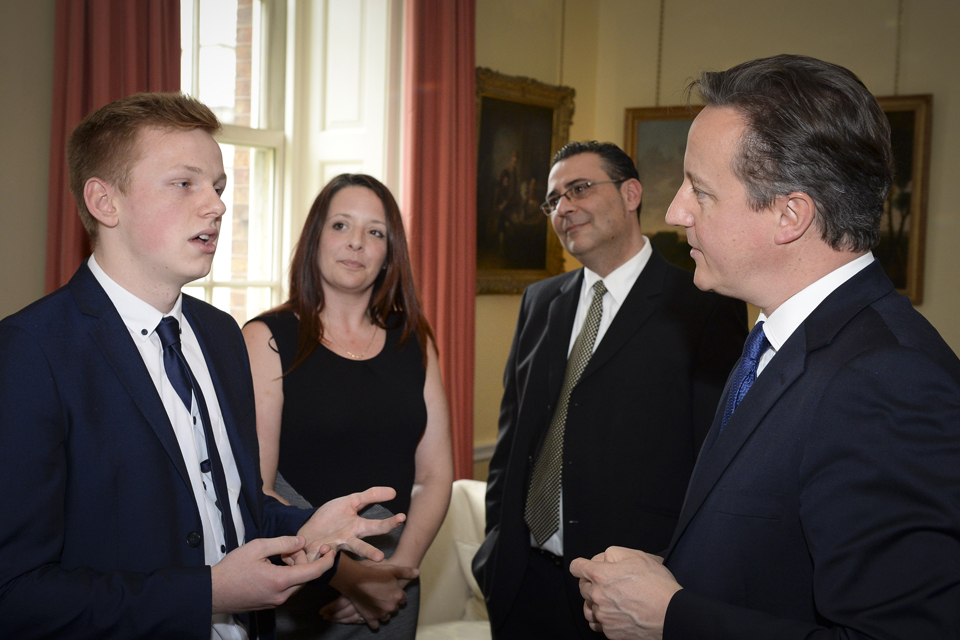 The Points of Light announced today were:
Storm Wallace - who showed true leadership and initiative inspiring hundreds of others to help with the clean-up operation after floods devastated Chesil Beach
Seamus Kearns - who volunteers with Surrey Search and Rescue and went to extraordinary lengths to ensure no one in his local community was left vulnerable in their homes during the floods
Clare Aparicio - who ensured people could eat proper meals after the floods damaged their kitchens and set up Much Thorn Flood Wings to help get vital supplies from A to B
Mark Whelan - who raised money to get his town of Boston back on its feet, providing vital support to people who lost so much during the floods
Zafar Ahmed - who was one of the first flood volunteers in Staines, working day and night to deliver sandbags, leaflets and food to people in need
The Points of Light foundation is a US based not for profit organisation launched in 1990 at the request of President George H.W. Bush. It is dedicated to advancing voluntary service to solve problems in society and communities for the common good. The foundation's work includes making awards to individuals and organisations that are making a difference in society and in communities through voluntary action.
Former President George H W Bush said:
I applaud the leadership Prime Minister David Cameron has shown in developing volunteering, philanthropy, service and social enterprise in recent years. I also commend the commitment of His Royal Highness The Prince of Wales and all party leaders to work together to advance voluntary service across the United Kingdom.

I hope the partnership we are launching can build on this. I am excited about the opportunities for connecting Points of Light on both sides of the Atlantic and enabling Britons and Americans facing similar challenges in their communities to work together and share their experiences and achievements. I am excited too about the opportunities for a wider partnership that will unite policy experts and politicians in both countries as we seek to develop this shared agenda for generations to come.

Let us hold up the thousands of points of light who are serving others, celebrate their work and help them inspire our people - in Britain, in America and across the world.
The Prime Minister began the recognition of volunteering and service in 2010 with the creation of the Big Society Awards which have now recognised over 100 companies and voluntary organisations for their contribution to society. This new award, which will sit alongside the existing Big Society Awards, will recognise exceptional individual acts of volunteering and service in the United Kingdom and this joint working will connect winners of these awards with American counterparts tackling similar social issues.
Published 7 April 2014