New report aims to boost women's role in economic growth
Women's Business Council publishes its recommendations.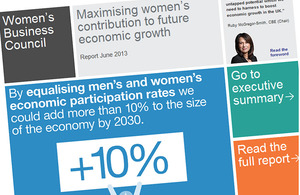 'Women should not just try to fit into the economy, they should be shaping it' is one of the key aims of the Women's Business Council (WBC) report which was unveiled today at the London Stock Exchange, in front of an audience drawn from across the world of business.
The report sets out a series of recommendations on how we can make the most of women's contribution to economic growth through all stages of their careers. This untapped potential includes 2.4 million women who are not working and want to work and a further 1.3 million women who want increase their hours. The report also highlights that equalising participation rates of men and women in the labour market, could increase economic growth by 0.5 per cent a year, with potential gains of around 10% to GDP by 2030.
Key recommendations are:
that there is an overwhelming business case, supported by strong evidence, for maximising women's contribution to growth
that we need to broaden girls' aspirations and job choices before the start of their working lives by creating a partnership between schools, business and parents
business needs to embrace the benefits of flexible working and understand how best to support working parents in the second stage of their career
women in the third phase of working life offer a great untapped potential
there is a strong case for providing more support for women who want to setup their own businesses
Watch a video summarising the work of the Womens Business Council and its key findings
Chair of the Women's Business Council and chief executive of MITIE, Ruby McGregor-Smith CBE said:
"The work of the Women's Business Council could not be more timely. It has never been more important to fully capitalise on the skills and talents of all people, regardless of their gender. By creating opportunity for all, raising aspirations and enabling people to maximise their talents, we will deliver stronger economic growth.
Further information
Published 4 June 2013