News story
New DCMS Permanent Secretary announced
Sue Owen joins DCMS from Department of Work and Pensions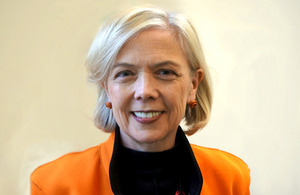 This morning, the Head of the Civil Service, Sir Bob Kerslake, announced the appointment of Sue Owen as the new Permanent Secretary at the Department for Culture, Media and Sport. Sue will join DCMS from the Department of Work and Pensions. The appointment has been approved by the Prime Minister, following consultation with the Deputy Prime Minister, and by the Secretary of State for the Department, Maria Miller.
On her new role, Sue said: "It is a great honour to be asked to lead the Department for Culture, Media and Sport. The Department has a big and exciting agenda to help Britain's arts, sport, media, creative and tourism industries contribute to economic growth and the quality of life, boosted by its responsibility for a society tolerant of diversity. I look forward to working with customers, industry and investors as well as the talented team at the Department"
Maria Miller said: "Sue Owen's appointment as our new Permanent Secretary is great news. She has a distinguished record of achievement across a wide range of areas and she is ideally suited to lead the team here, making the most of the great opportunity we have to play a big part in the Government's plans for economic growth and a fairer, more decent society."
Sue is currently Director General, Strategy at the Department of Work and Pensions a post she has held since October 2011, having joined the DWP in 2009 as Director General, Welfare and Wellbeing. Sue was Director General, Corporate Performance at the Department for International Development from 2006 to 2009 and prior to that she was a Director at the Treasury and held posts at the No10 Policy Unit, the British Embassy in Washington and was an academic labour market economist for 10 years.
Sue will join DCMS at the beginning of October.
Published 4 September 2013