Press release
New cuts to red tape come into force
Good news for UK companies as simplifications to employment, planning and environmental regulations come into force today (6 April 2014).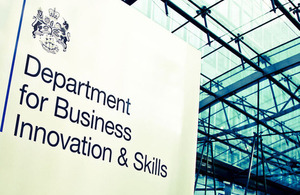 Business Minister Michael Fallon announces good news for UK companies as simplifications to employment, planning and environmental regulations come into force.
The reforms coming into effect on today's (6 April 2014) Common Commencement Date are part of a drive to cut red tape that is saving firms £1.2 billion a year. They respond directly to issues raised by business, including through the Red Tape Challenge, which invites firms to give their views on which regulations should be removed or improved.
Business Minister Michael Fallon said:
By reducing government meddling we are creating a better environment in which to do business and laying the foundations for strong and sustained growth. We are on track to be the first government in modern history to reduce the weight of regulation on business.
To make it easier for businesses to comply with employment law:
anyone considering taking their employer to a tribunal must first of all contact Acas, which will offer both parties a free conciliation service to encourage earlier resolution of disputes outside of an Employment Tribunal. This Early Conciliation process launches on 6 April 2014 and will be a legal requirement from 6 May 2014

the Transfer of Undertakings (Protection of Employment) Regulations (TUPE) process will be simpler, making business transfers easier for firms while ensuring employees are protected.
Reforms to save businesses time and money include:
eliminating around 23.5 million pieces of unnecessary paperwork needed to record waste management. Businesses are no longer required to complete Waste Transfer Notes, which are being replaced with a simpler and less time-consuming electronic system

making it easier to convert specific types of development to other uses without the need for full planning permission. This will help make it easier to get empty and redundant buildings back into productive use. These include conversions from retail to residential or banking use, and agricultural to residential or state funded educational use.
As part of the government's drive to simplify how necessary regulations are enforced, the Primary Authority scheme will be extended to Fire Safety regulations. Primary Authority reduces inconsistency or confusion for firms by enabling businesses to form a statutory partnership with a single local authority, which then provides reliable advice and coordinates inspections and enforcement.
A new Regulators' Code gains statutory force on 6 April 2014, replacing the Regulators' Compliance Code. It provides a clear, flexible framework for how regulators should engage with those they regulate.
Notes to Editors:
Government reforms are already saving business around £1.2 billion to date. Details of regulations to be scrapped or improved through the Red Tape Challenge are available at: www.redtapechallenge.cabinetoffice.gov.uk/home/index/.

Under the One-In, Two-Out rule, government departments must find savings worth double the cost of any new regulations on business.

Focus on Enforcement reviews examine how regulation is delivered - through inspections, advice and enforcement - with a view to identifying and delivering improvements that reduce burdens on business.

The government is working with partners across Europe to reduce the burden of EU regulation on business. Priorities for making the EU more business-friendly include persuading the Commission to publish an annual statement of the net cost of EU legislation, to help business see what burden of regulation stems from the EU; and making sure that business have an opportunity to influence EU proposals at an earlier stage. Tough new rules to end the 'gold-plating' of EU legislation have prevented Whitehall departments from adding additional red tape to EU regulation that is incorporated into UK law.

The business-led Taskforce on EU Regulation, appointed by Prime Minister David Cameron, published its report Cut EU Red Tape in December 2013.

To view the latest Statement of new Regulation, the government's 6 monthly progress update on regulation published in December 2013 visit: https://www.gov.uk/government/collections/one-in-two-out-statement-of-new-regulation

The government's economic policy objective is to achieve 'strong, sustainable and balanced growth that is more evenly shared across the country and between industries'. It set 4 ambitions in the 'Plan for Growth', published at Budget 2011:
to create the most competitive tax system in the G20
to make the UK the best place in Europe to start, finance and grow a business
to encourage investment and exports as a route to a more balanced economy
to create a more educated workforce that is the most flexible in Europe
Work is underway across government to achieve these ambitions, including progress on more than 250 measures as part of the Growth Review. Developing an Industrial Strategy gives new impetus to this work by providing businesses, investors and the public with more clarity about the long-term direction in which the government wants the economy to travel.
Published 6 April 2014