Nepal earthquake: UK aid response
Latest updates and summary of the UK's humanitarian response to the Nepal earthquake.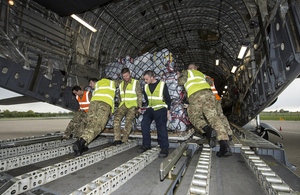 On 25 April, a magnitude 7.8 earthquake struck an area between Kathmandu and Pokhara, Nepal. The government of Nepal has requested international assistance and the UK government is responding. Thousands are in need of shelter, water and food. We are working to ensure survivors get the help they need.
Summary of UK humanitarian response
The UK's humanitarian response now stands at more than £33 million and includes:
£10 million to rebuild vital health services in the worst affected districts;
£5.3 million for UN agencies in Nepal to coordinate the international relief effort and provide clean water and shelter for affected families;
£3 million released under the Rapid Response Facility (RRF) to six charities and NGOs already working on the ground: Save the Children, Mercy Corps Scotland, Care International UK, ActionAid, Oxfam and Handicap International;
£2 million for the British Red Cross;
£5 million to match public donations to the Disasters Emergency Committee's appeal, which will support NGOs on the ground;
a £5 million package to provide a further team of 30 trauma medics, logistical support and equipment to ease congestion at Kathmandu Airport and humanitarian experts in water, health and sanitation. DFID also deployed a team of more than 60 UK International Search and Rescue (UKISAR) responders and specialist rescue dogs;
£2.5 million for the UN Humanitarian Air Service to enable organisations already on the ground to deliver aid to isolated areas; and
more than £300,000 for Mission Aviation Fellowship (MAF) to provide two Airbus 350 helicopters to get help to more remote regions
Infographic: UK aid response to Nepal earthquake - last updated 20 May.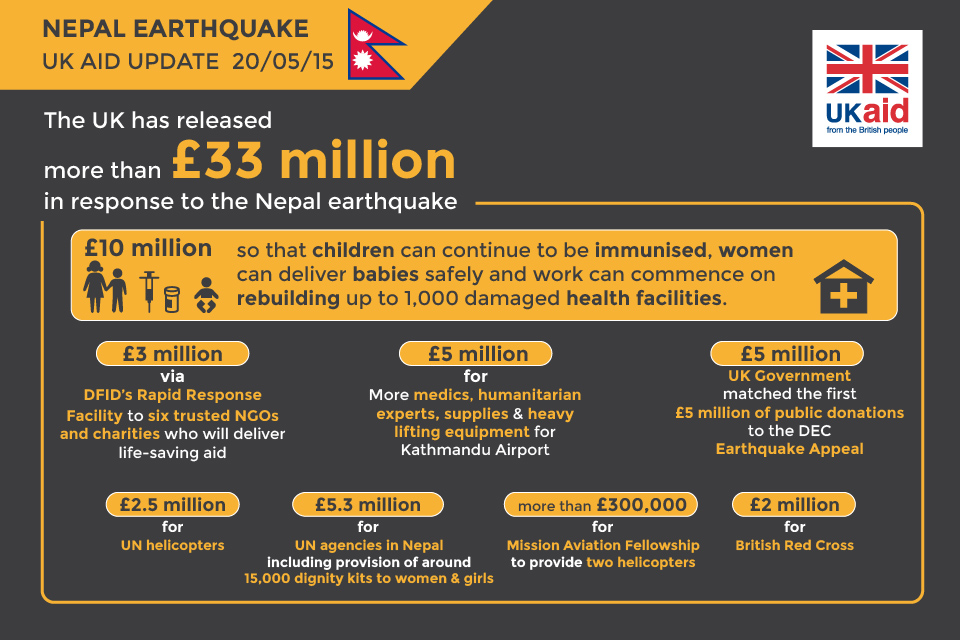 In pictures: photos of the UK's humanitarian response to the Nepal earthquake
Latest news
20 May
Women and girls receive support as Britain helps rebuilding efforts in Nepal
9 May
Additional British Army Gurkhas join relief efforts in Nepal
6 May
British aid provides shelter for over 65,000 Nepalese people
3 May
UK boosts international aid effort in Nepal
2 May
More vital UK aid reaches Nepal
1 May
Fast-tracked funding released for charities on the ground in Nepal
30 April
UK government deploys Chinook helicopters to Nepal
Vital aid reaches Nepal with arrival of RAF C-17 aircraft
29 April
£5m rescue and relief aid boost for Nepal earthquake effort
27 April
Gurkha engineers preparing for deployment to Nepal
26 April
UK humanitarian aid released for Nepal earthquake victims
British search and rescue responders and medics deployed to Nepal
25 April
UK humanitarian experts deployed to Nepal
Published 28 April 2015
Last updated 20 May 2015
+ show all updates
Updated funding amounts

Updated infographic 14 May 2015.

Insert of link to press release

Latest MOD efforts to provide aid to Nepal

Slight change to overall funding figure

Change in Flickr link

Change in infographic information

New infographic

New funding announcement

2 May update - More vital UK aid reaches Nepal

Added information on RRF funding

30/4/15 - announcement of 3 RAF Chinooks additional funding for UN helicopters

Infographic of UK's response added.

Additional £5 million support announced 29 April 2015

First published.