Press release
Fast-tracked funding released for charities on the ground in Nepal
Six trusted NGOs and charities to deliver life-saving aid to those affected by the earthquake in Nepal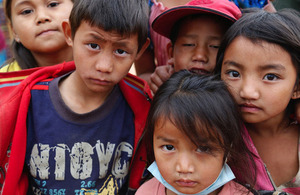 Following activation of the UK's Rapid Response Facility (RRF) on Sunday 26 April, International Development Secretary Justine Greening today announced 6 trusted NGOs and charities who will deliver life-saving aid to those affected by the earthquake in Nepal.
The selected organisations, which include some of Britain's best-known charities, will share £3 million funding as part of Britain's response to the crisis in Nepal. They are: Save the Children, Mercy Corps Scotland, Care International UK, ActionAid, Oxfam and Handicap International.
UK funding via the RRF will help to provide:
more than 40,000 people with dignified temporary shelter and access to life-saving emergency supplies;
more than 20,000 people with access to clean water, sanitation facilities, and hygiene information to better manage public health risks;
40,000 of the most vulnerable people with protection from all forms of violence and exploitation through emergency cash assistance; and
more than 2,500 people with severe injuries with physical rehabilitation activities.
Justine Greening said:
Providing pre-approved charities already working on the ground with fast-tracked funding is one of the best ways of getting help to people affected by the earthquake.

With this funding, our trusted partners will get emergency shelter, medical support and clean water to thousands of people who were caught up in this disaster. By creating safe spaces they will offer protection to many vulnerable women and children who have lost their homes and could be at risk of violence.
The UK is playing a leading role in responding to the earthquake and is currently the largest donor to the relief operation, having pledged £17.5 million which includes:
£3 million released under the Rapid Response Facility (RRF);
£2 million for the British Red Cross;
£5 million to match public donations to the Disasters Emergency Committee's appeal which will support NGOs on the ground;
a £5 million package to provide a further team of 30 trauma medics, logistical support and equipment to ease congestion at Kathmandu Airport and humanitarian experts in water, health and sanitation; and
£2.5 million for the UN Humanitarian Air Service to enable organisations already on the ground to immediately get aid supplies to more isolated areas.
We are also providing expert support and assistance on the ground:
DFID has deployed a team of more than 60 UK International Search and Rescue responders and specialist rescue dogs.
An RAF C-17 flight has already arrived in Nepal carrying shelter kits and solar lanterns, along with a team of Gurkha engineers.
three RAF Chinook helicopters are being deployed.
Foreign and Commonwealth Office staff are continuing to work round the clock to identify and assist British nationals in Nepal.
Notes to editors
The UK government is providing consular assistance to British nationals who have been caught in this disaster. We are urgently looking into ways we can assist further including help to get British Nationals out of Nepal. The situation on the ground is highly challenging. Basic telephone communication and infrastructure are severely disrupted.

Anyone who is caught up in this incident or worried about a loved one should call the FCO on +44 (0) 207 008 0000.

A full needs assessment is currently being carried out by the governments of the affected countries alongside the United Nations. Our RRF partners will be able to adapt their activity as and where necessary to give people the help they need most.
General media queries
Follow the DFID Media office on Twitter - @DFID_Press
Published 1 May 2015