Press release
Movement restrictions introduced to protect UK against tree pest
New measures brought in after larger eight-toothed spruce bark beetle (Ips typographus) was found in Kent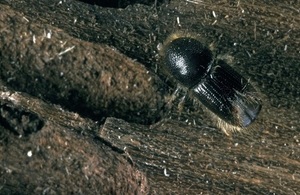 New measures are being introduced today (16 January) to protect the country against the tree pest known as the larger eight-toothed spruce bark beetle (Ips typographus), which was discovered in Kent in December 2018.
Legislation is being laid in Parliament that will restrict the movement of all susceptible material, including trees and wood with bark, within 50km of the outbreak sites where Ips typographus was found.
This legislation is a necessary precaution to prevent the spread of the pest further afield and will remain in place until further notice, but will be kept under review.
The exact boundaries of the restricted area and details of the materials under restriction are available on the Forestry Commission website.
Industry are also urged to remain vigilant for signs of the pest and to report any suspicions to the Forestry Commission.
Nicola Spence, the UK Chief Plant Health Officer, said:
The eight-toothed spruce bark beetle (Ips typographus) poses no threat to human health, but it can be a serious pest to the spruce tree species and the forestry industry.

That is why we are taking robust action through this new legislation and its restriction of movement for spruce trees in a 50km area around the outbreak.

I encourage anyone who suspects a sighting of the bark beetle to report these to the Forestry Commission online through Tree Alert.
Further detail on how to report suspected cases is available here
Published 16 January 2019