Press release
Minister for Africa comments on situation in eastern DRC
Foreign Office Minister Mark Simmonds deeply concerned by renewed fighting in Democratic Republic of Congo.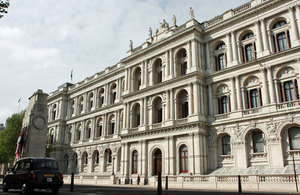 The Foreign Office Minister for Africa Mark Simmonds today commented on recent events in eastern Democratic Republic of Congo:
I am deeply concerned by the news that there has been renewed fighting in eastern DRC and its impact on the ordinary people of eastern DRC. All parties to the conflict must respect human rights and humanitarian law.

The deployment of the Force Intervention Brigade as part of MONUSCO will underpin the implementation of the Peace, Security and Cooperation Framework (PCSF) which is essential to bring stability and prosperity to eastern DRC. I welcome the continued efforts by the African Union and the UN to support the PSCF. I also welcome the visit by the UN Secretary General, the UN Special Envoy for the Great Lakes, and the President of the World Bank to the Democratic Republic of Congo. This visit underlines the strong commitment of the international community, working with the Congolese Government, to build a lasting peace in the DRC.
Further information
Follow Foreign Office Minister Mark Simmonds on twitter @MarkJSimmonds
Follow the Foreign Office on twitter @foreignoffice
Follow the Foreign Office on facebook and Google+
Subscribe to the announcements feed or email alerts to get our latest news and announcements
Published 23 May 2013