Press release
Millennium Stadium to stage pinnacle club football final
Stephen Crabb: Champions League Final will be a showcase for the capital city and our country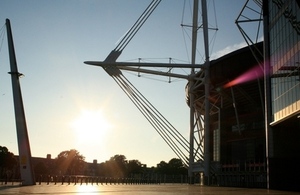 Hosting the Champions League final in Cardiff will be a huge boost for the capital and Wales as a whole, Secretary of State for Wales, Stephen Crabb said today (30 June).
UEFA's executive committee has confirmed that the biggest game in European club football will be held at Cardiff's Millennium Stadium in 2017.
The UK Government has worked closely with the Football Association of Wales (FAW) in its ambition to bring the match to Wales. Today, Ministers hailed the announcement from UEFA as another milestone sporting moment for Cardiff, and for those who worked in partnership to secure it.
The Prime Minister David Cameron said:
The Millennium Stadium is not only one of our country's finest sporting venues, it is one of the best in Europe. It is fantastic news that this has been recognised by UEFA and that the 2017 Champions League Final will be in Cardiff.
Secretary of State for Wales Stephen Crabb said:
Today's announcement is fantastic news for Wales and yet another ringing endorsement of the Millennium Stadium's credentials as a world class sporting venue. The FAW's bid has had the full backing of the UK Government and we should be rightly proud of all the efforts that have gone into securing this pinnacle match.

From Ashes Test matches, to Olympic football games, Cardiff has consistently proven its calibre in delivering high profile events on an international stage. Hosting this prestigious fixture is another opportunity for one of Europe's most exciting capital cities to shine in front of an audience of millions, bringing with it an economic boost that reaches the whole of Wales.
Minister for Sport Tracey Crouch said:
It is fantastic news that the Champions League final will be coming back to Britain in 2017 with Cardiff the host venue. The Millennium Stadium is a brilliant venue and I know that the Welsh will give visiting supporters a wonderful welcome. I am pleased the UK Government could help secure the biggest match in club football for Wales that will bring both economic and sporting benefits to the country.
Notes to editors
The Champions League Final is recognised as the largest match in club football with an estimated global reach of 400m viewers in over 200 countries (6m in UK on ITV). In 2013, approximately 100,000 German fans came to London to watch the match without tickets, boosting London's economy by an estimated £44m.
Published 30 June 2015