News story
Market surveillance project 2013 to 2014 launched
Invitation to local authorities to take part in the market surveillance project for 2013 to 2014.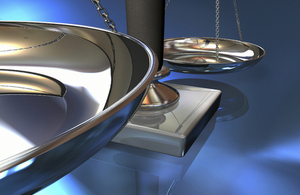 National Measurement Office (NMO) would like to invite local authorities to take part in the 2013 to 2014 project and to conduct market surveillance on smaller capacity automatic weighing instruments which have been placed on the market and put into use under the Measuring Instruments Directive (MID).
We are inviting 10 local authorities to bid for this work for which the payment will be £1,000 for each local authority (excluding VAT).
We would anticipate that this work would encompass at least 2 days work from a participating local authority.
The instruments covered in the work will be:
automatic catchweighers complying with the measuring instruments
(automatic catchweighers) regulations 2006, SI 2006/1257
automatic gravimetric filling instruments complying with the measuring
instruments (automatic gravimetric filling instruments) regulations 2006,SI 2006/1258
Accordingly, local authorities are invited to conduct a market surveillance exercise on such instruments, on which a manufacturer's declaration of conformity has been made.
The scope of the work will include determining:
compliance with the applicable regulations
compliance with correct conformity documentation
conformity with the type approval certificate
correct seals have been applied
correct markings are in place
additional information that is required to accompany the instrument is available, if applicable
the date of the initial installation and first use for trade, if possible
a weighing performance check, if possible
The installation date is important since some instruments may have been in use before the MID regulations were implemented. In addition to this, if weighing performance checks are conducted very soon after initial first use for trade, they may give a broad indication of the initial calibration set up.
Reporting sheets will be made available for the recording of the data required.
The completed reporting sheets must be submitted by the end of December 2013.
If you would like to apply for this work, please email: michael.harvey@nmo.gov.uk
Background
NMO is responsible for market surveillance activities under the new approach, including metrology directives covering non-automatic weighing instruments, water meters, measuring systems for liquids other than water, capacity serving measures, length measures and automatic weighing instruments. NMO on behalf of the UK has a statutory duty under the metrology directives to ensure that all appropriate measures are taken to ensure that measuring instruments that are subject to legal metrological control but do not comply with the applicable provisions of the directives are neither placed on the market nor put into use.
Published 23 July 2013