Press release
Less bureaucracy for pharmaceutical firms
Regulators for the pharmaceutical manufacturing sector have pledged to reduce bureaucratic burdens on firms.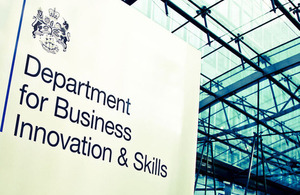 Regulators for the pharmaceutical manufacturing sector have pledged to reduce bureaucratic burdens on firms following a government review of regulatory enforcement.
The government's Focus on Enforcement review asked pharmaceutical manufacturers to identify any unnecessary, counter-productive or inconsistent demands placed on them by regulators.
In response, the lead regulator for the sector, the Medicines and Healthcare Products Regulatory Agency (MHRA) and the Home Office Drugs Licensing and Compliance Unit (DLCU), which is responsible for issuing licences for controlled drugs, have pledged to streamline processes, increase transparency and provide clearer advice for businesses.
Business Minister Michael Fallon, who leads the government's drive to improve the delivery of regulation affecting businesses in the UK, said:
The pharmaceutical manufacturing sector is worth around £13 billion to UK economy and employs over 40,000 people, so we can't afford to hold it back with unnecessary red tape. I am expecting quick and substantial reform in response to the issues raised by business through this review.
The regulators have today (12 June 2014) committed to:
help businesses get their products to market more quickly by simplifying licence applications and variations. The Home Office has already replaced the previous application portal for controlled drugs licences with a more user-friendly version
make it easier for business to track the progress of applications through the licence system
reduce the impact of multiple overlapping international inspections through continuing to work internationally to integrate inspections and harmonise rules
help businesses deal with inconsistency across EU countries by facilitating better engagement with other European regulators
reduce inconsistent advice from inspectors by considering 'relationship managers' for individual businesses and examining a second opinion mechanism to enable businesses to raise queries about regulators' decisions
give businesses more certainty and clarity over the process for signing off products to market
help businesses comply with the rules by updating and improving guidance and removing redundant guidance from their websites
increase transparency over the breakdown of the fees charged to businesses for MHRA licences and inspections. The MHRA and the DLCU will give industry, including trade bodies and individual businesses, a key role in shaping these reforms and as part of an ongoing dialogue with them
MHRA Chief Executive Dr Ian Hudson said:
We welcome this review. While we are pleased that we are recognised as a highly respected global regulator that is valued by industry, we are always looking at ways we can improve. We have been, and will continue to work with the Department for Business, Innovation and Skills (BIS) to reduce the regulatory burden on industry, promote innovation and encourage the development of new healthcare products that benefit people's health.
Responding to the publication of the review and responses from the regulators, Stephen Whitehead, Chief Executive of the Association of the British Pharmaceutical Industry said:
ABPI welcomes the findings of the Focus on Enforcement review, which our members took part in. We look forward to working with the regulators to take forward the agreed actions and ultimately to improve processes for the benefit of all stakeholders.
The Focus on Enforcement review gathered evidence during the summer of 2013.
During the review, industry raised concerns that bureaucracy and slow approval processes were unnecessarily delaying their products reaching the marketplace and, in some cases, resulted in orders being cancelled or contracts lost.
Businesses also reported high volumes of visits from overseas inspectors, including reports of 7 inspections per year, with each inspection lasting up to 5 days and costing up to £10,000 per day.
The sector also reported receiving conflicting advice and guidance from inspectors and highlighted the absence of clear routes for obtaining second opinions on inspectors' decisions.
Notes to Editors
Focus on Enforcement reviews examine how regulation is delivered – whether through inspections, advice, or enforcement – rather than focusing on the design of the regulations themselves. For more information, including previous reviews and what they have achieved, visit the Focus on Enforcement website.
The review of enforcement in the pharmaceutical manufacturing and production sector gathered evidence from July to October 2013.
On 10 March 2014 Business Minister Michael Fallon invited industry bodies to bid to help run a Business Focus on Enforcement Review - a new phase of the programme. This will allow industry groups such as trade associations to lead reviews into regulatory enforcement in their sectors and present the case for change directly to regulators and Ministers. For more information about the new project, visit Business Focus on Enforcement.
Government action to reduce and reform regulations themselves – including through the Red Tape Challenge and the One-in, Two-out rule, is saving businesses over £1.2 billion annually
The Strategy for UK Life Sciences was published in December 2011. It is part of the government's Industrial Strategy and aims to create and sustain the best environment for life sciences investment, including through reducing the burden of unnecessary regulation.
The government's long-term plan is to build a strong, more competitive economy and a fairer society.
Industrial Strategy gives impetus to the plan for growth by providing businesses, investors and the public with clarity about the long-term direction in which the government wants the economy to travel.
The first achievements and future priorities of the industrial strategy have been published and can be found here https://www.gov.uk/government/publications/industrial-strategy-early-successes-and-future-priorities.
Published 12 June 2014